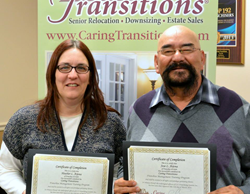 Lubbock, TX (PRWEB) May 22, 2014
When Heather Arjona became a pharmacist, it was because she wanted to make a real difference in people's lives. But as that career became more about cheap prescriptions and sheer speed, she knew it was time for a change.
That's why Heather and her husband Jose Arjona just launched Caring Transitions of Lubbock, Texas.
Caring Transitions is America's largest resource specializing in organizing and managing senior relocations, downsizing, liquidation of belongings and estate sales for seniors who are moving to a smaller home, back in with their children, or into assisted living facilities as well as others facing life transitions. In addition to the organizing, packing and move oversight, Caring Transitions can handle on-site or online estate sales, junk removal and cleanout, and preparing homes for market.
"I've always been the kind of person who has a true desire to help people. I used to love being a pharmacist because I got to work with patients and talk to them about ways to help them feel better. But when $4 generics came out, we had less and less time to work directly with the customers. We were thinking about starting a new career when we came across an article about Caring Transitions. This is a perfect fit for us," Heather said. "The majority of our employees are family and that's what we're all about. It's our family helping your family through what can be a very difficult time. We are here to be your advocate."
Each Caring Transitions franchisee is a Certified Relocation and Transition Specialist, a designation bestowed by an independent organization that evaluates providers of senior relocation services. They are trained, bonded and insured. This new franchise will bring several new jobs to the area as Caring Transitions of Lubbock grows.
Heather is originally from Iowa and she followed in her father's footsteps and worked as a pharmacist for 23 years, including a pharmacy manager for almost 12 years. During that time, despite working many 12 hour shifts, Heather found time to work with interns and serve as an adjunct professor at Drake University.
Jose hails from Lockney, Texas, and he worked for Cargill Hybrid Seed for 21 years before the company was bought out. In that career, he had the opportunity to work within the community. He participated in the literacy program where he read to children, taught farm safety to little ones and helped build a playground. For the last few years Jose has been working with developing confectionery sunflower seeds with Triumph Seed in Ralls, Texas.
Heather and Jose have been married for six years and the family has four children and two grandchildren.
"We've both been through divorce, so we know the pain of trying to separate the belongings and move on, and we've helped elderly family members move into assisted living when that became needed. We've also moved ourselves across the nation. These experiences really help us relate to our clients. We know what they're going through because we've been there too," Heather said.
Founded in 2006, Caring Transitions has been a trusted and highly respected national company leading the way in senior relocation, household liquidations and estate sale management in more than 130 locations across the United States. Caring Transitions is part of the International Franchise Association, the Small Business Association's Franchise Registry, VetFran and Minority Fran.
To learn more about how Caring Transitions can help you and your family, call 806-686-3360, email harjona(at)caringtransitions(dot)net or visit http://www.CaringTransitionsLubbock.com.
About Caring Transitions
Caring Transitions, founded in 2006, is the first national franchising concept specializing in Senior Relocation and Transition Services. With locations throughout North America, Caring Transitions provides clients with expert advice plus a well-executed transition plan beginning with the initial sorting of personal belongings through packing, shipping and selling of items to the final clearing and cleaning of the property. For more information, visit http://www.caringtransitions.com.