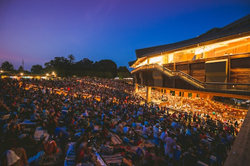 Vienna, Virginia (PRWEB) May 23, 2014
John Butler Trio
Special Guest:
Allen Stone
Wednesday, June 18, 2014 at 7:30 pm
Australian roots-rock and jam band John Butler Trio will be appearing alongside the self-described "hippie with soul" R&B singer Allen Stone.
John Butler Trio is fronted by one of Australia's most successful independent artists, John Butler, whose "gripping lead guitar gives the music complexity and muscle" according to Rolling Stone. The group is completed by bassist Byron Luiters and recently added percussionist Grant Gerathy, both celebrated Australian musicians in their own right. The group, having released multiple platinum- and gold-certified records in previous years, came out with their newest studio album, Flesh & Blood, last February. The album has been acclaimed as one of the group's best, and The AU Review proclaimed "they're doing it right, so right, and we can only hope they keep doing what they're doing for years to come."
With musical themes such as reclaiming humanity in the midst of a frustrating world, Allen Stone conveys a clear message delivered by a powerful set of pipes. His passion for social consciousness was shaped by his upbringing as the son of a preacher. He also had an early love of gospel and soul music and cites Stevie Wonder, Marvin Gaye, and Aretha Franklin as his musical influences. A rising star with two self-released albums already under his belt, his latest work, an eponymous album, immediately earned him a contract with ATO Records.
Video: John Butler Trio – "Only One"
Video: Allen Stone – "Unaware"
Daryl Hall & John Oates
Thursday, June 19, 2014 at 8 pm
Let newly minted Rock and Roll Hall of Famers Daryl Hall & John Oates make your dreams come true! A wildly successful group in the '70s and '80s, the pair from Philadelphia was named by Billboard as the No. 1 Musical Duo of All Time and No. 15 Best Artist of All Time. They have firmly established themselves as musical mainstays with their unique sound, called "rock and soul" for its fusion of rock 'n' roll and R&B, heard in hits such as "Sara Smile," "Kiss on My List," and "Maneater," not to mention on seven platinum albums. Today, both artists continue to sell out live performances and have both released successful independent albums, including Hall's Laughing Down Crying and Oates's Mississippi Mile, both from 2011. As Questlove, of the hip-hop group the Roots, said, "I'm gonna list all the duos in the rock era that were more popular than [Daryl] Hall and [John] Oates...okay, I'm done."
Video: Daryl Hall & John Oates – "Private Eyes"
Pixar in Concert
National Symphony Orchestra
Emil de Cou, conductor
Friday, June 20, 2014 at 8:30 pm
Enjoy an evening of stunning animation and music from more than a dozen Pixar films, including Ratatouille, A Bug's Life, Finding Nemo, WALL-E, Up, The Incredibles, Brave, Monsters, Inc., Monsters University, and the Cars and Toy Story series. The National Symphony Orchestra, under the direction of Emil de Cou, will play selections from the films' award-winning scores, paired with brilliant movie clips shown on huge screens placed in-house and on the lawn. The rousing, 10-time Grammy winning, and three-time Academy Award winning melodies from the beloved films have been perfectly blended to create a one-of-a-kind experience that is Pixar in Concert.
Video: Pixar In Concert – Monsters, Inc. segment
Sing-A-Long Grease
Saturday, June 21, 2014 at 8:30 pm
Don your leather jacket and dance on over to Danny and Sandy for a night of infectious rock 'n' roll! Ranked No. 20 on the American Film Institute's Greatest Movie Musicals of All Time list, Grease is a 1950s-era American classic that will never get old. As The Denver Post praises, the movie "holds up for new generations because it captures the enthusiasm of youth and the vibrancy of California's sunshine-and-cars culture." The Sing-A-Long adds an exciting twist to beloved favorites like "You're the One That I Want" and "Beauty School Dropout" by displaying the lyrics to all the songs at the bottom of huge movie screens, set up in-house and on the lawn. Aspiring Pink Ladies and T-Birds can grab a goody bag filled with fun props to use while they and the rest of the audience sing their favorite songs to make this "summer night" one to remember.
Video: Sing-A-Long Grease Fan Reactions and Praise
Tickets can be purchased by calling 1.877.WOLFTRAP or online at wolftrap.org.
For more information, call Wolf Trap at 703.255.1900.
High-resolution images of the artists listed are available on Wolf Trap's website: wolftrap.org/Media_and_Newsroom/Photos_for_Publication.aspx.
Wolf Trap is Metro accessible!
Our environmentally friendly Wolf Trap Express Bus travels from the West Falls Church Metro stop every 20 minutes starting two hours prior to show time. For details, please visit wolftrap.org/Plan_Your_Visit/Access_by_Metro.aspx.
###