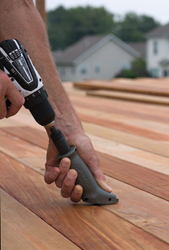 "The DIY Network is the perfect vehicle for us to reach the 'Do-it-Yourself' homeowner, as well as the professional builder...we are very excited to partner with DIY, as we take this next big step in growth of the CAMO brand." - W. Scott Baker, NNC
Grand Rapids, Mich. (PRWEB) May 23, 2014
National Nail Corp.'s CAMO Hidden Deck Fastening System is featured in a DIY Network commercial beginning Monday, May 12 and will run through June 23, 2014. The commercial highlights their newest innovation, the CAMO Marksman Edge™ – an edge-fastening technology for installing decks made of any board material.
"The DIY Network is the perfect vehicle for us to reach the 'Do-it-Yourself' homeowner, as well as the professional builder," says W. Scott Baker, President & CEO of National Nail Corp. "We are very excited to partner with DIY, as we take this next big step in the growth of the CAMO brand."
The Marksman Edge is a contractor-grade tool that attaches to any drill. Providing a no-gap installation of treated and softwood lumber, the Edge can work with secondary spacers when projects require a gap. It's as simple as loading the screw, setting the tool and driving the screw in. A built-in CAMO Driver Bit controls the depth of drive every time. The Marksman Edge retails for $39.95 MSRP.
"Most decks are currently built using a 'face-fastening' approach, which eventually leads to splinters, nail pops and cracking – preventing homeowners from safely enjoying their outdoor living areas," Baker adds. "The Edge eliminates these common problems by providing a beautiful, fastener-free surface."
The 30-second commercial is currently airing nationwide on the DIY Network during shows including "Yard Crashers", "Deck Wars", "Desperate Landscapes" and "Decked Out." Along with the Marksman Edge, the commercial highlights the complete lineup of Marksman® tools and CAMO Hidden Fasteners. The ad is also featured on the newly updated CAMO Fasteners website.
DIY Network, from the creators of HGTV and Food Network, is the go-to destination for home improvement television. DIY Network's expert hosts answer the most sought-after questions and offer creative projects for the do-it-yourself enthusiast. The network is currently in more than 58 million homes, covering a broad range of programming, including home improvement and landscaping. The network's award-winning website, DIYNetwork.com, consistently ranks among America's top home and garden Internet destinations for entertaining videos and home improvement advice.
For more information about CAMO Fasteners, visit http://www.camofasteners.com or call 1-800-968-6245 ext. 2134. Be sure to "Like" CAMO Fasteners on Facebook and keep up with CAMO news, stories, photos and events by signing up for the CAMO Connection.
National Nail Corp., headquartered in Grand Rapids, Mich., is an employee-owned manufacturer and distributor of high quality, innovative building products and service solutions for the residential and commercial construction industries. Other National Nail brands include Pro-Fit® Fasteners, STINGER® Cap Systems and Impressions Storm Doors and Windows.