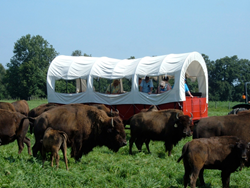 Wolcottville, Indiana (PRWEB) May 24, 2014
Owners, Pete and Erica Cook began Calf Days in 2001 with just 250 guests attending. Since then they welcome over 1,000 guests each spring to celebrate spring and the birth of new calves. It has also proved to be an excellent way to introduce the public to their unique business.
Of course, the bison which live on this ranch year round are the main attraction and free wagon rides will take guests out to watch them and feed them. Just as the Native Americans found the bison to be great resources to enhance their lives and well-being, the Cooks educate the public in the many current resources the bison offer. The itinerary for the day includes demonstrations on bison meat cooking, hair spinning, and the delights of smoked jerky.
The event raises money to support a mission to the Pine Ridge and Rosebud Native American Reservations. There is no entrance fee, but donations are gratefully accepted.
The location of the Cook's Bison Ranch is at 5645 East 600 South Wolcottville, IN.