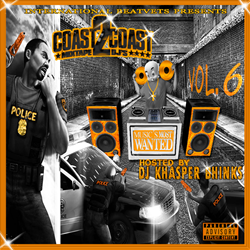 Indianapolis, IN (PRWEB) May 23, 2014
Coast 2 Coast Mixtapes announce the release of the "Music's Most Wanted Volume 6" mixtape by Dj Khasper Bhinks. The 26 track project is currently available for download. The mixtape features appearances from Sidewalk Pkasso, Koncreat, Kash Kobain, Carolina Blacc, Wizo Cracc, Gage Gully, Melz, and more.
Dj Khasper Bhinks is a DJ from Indianapolis, IN. Though he calls Indiana home, DJ Khasper Bhinks is an international DJ promoting artists from around the world. Beyond being a full time DJ, Khasper Bhinks also produces, mixes, and promotes projects from some of the fastest rising talent in the music industry. Actively developing his network, fine tuning his skills, and promoting music since 1998; Dj Khasper Bhinks has worked with hundreds of independent artists from around the globe creating an entertainment industry resume that cannot be overlooked.
The sixth and latest installment of Dj Khasper Bhinks' "Music's Most Wanted" series includes artists from Alaska, Maryland, Canada, New England, Kentucky, Texas, Louisiana, Pennsylvania, Kansas, Florida, California, New York, North Carolina, Nevada, Tennessee, Virginia, and Washington DC creating a diverse flow of music that properly represents every region of the North American continent. Featuring collaborations with Sidewalk Pkasso, Koncreat, Kash Kobain, Carolina Blacc, Wizo Cracc, Gage Gully, and Melz just to name a few; Dj Khasper Bhinks provides a platform for artists of all levels to get their music heard. Reach out to DJ Khasper Bhinks today on his Twitter page at @DjKhasperBhinks.
About Coast 2 Coast Mixtapes
Coast 2 Coast Mixtapes are the most widely distributed mixtapes in the world, with over 100 million downloads/plays generated by over 200 volumes officially hosted by major artists. Coast 2 Coast has a solid reach in the new music industry with a digital magazine, DJ coalition, industry tips blog, yearly convention, and more. Coast 2 Coast Mixtapes represents a unique opportunity for artists of all urban genres, from major to indie. For more information, visit http://www.coast2coastmixtapes.com.