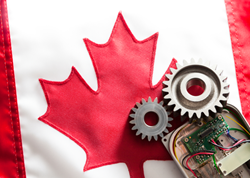 Costimator® solves these estimating problems, whether you're a buyer or a parts supplier.
West Springfield, MA (PRWEB) September 10, 2014
MTI Systems, developer of Costimator® cost estimating, quoting and process planning software is pleased to announce that four Canadian manufacturers have selected their flagship software product to help them improve their consistency with their estimating and quoting.
Recently, South Essex Fabricating, Avior Integrated Products Inc., Babcock & Wilcox Canada, and Durose Manufacturing were all seeking a new estimating system to help them respond quicker to customer request for quotes (RFQs) and with more consistency.
"Manufacturers, regardless of where they are located, realize now more than ever that in order to be competitive in today's global marketplace they need to have a standardized, systematic way of estimating product costs," comments Mr. David LaJoie, Vice President of Sales at MTI Systems, "Costimator® solves these estimating problems, whether you're a buyer or a parts supplier."
Since 1982, over 1,500 manufacturers worldwide have implemented Costimator in order to help them reduce estimating time, while also using the software to help increase their estimating accuracy and consistency. The software supports the estimating of all forms of machining, fabrication, plastic manufacturing, assembly, and more. The estimating software is used to estimate all the time elements associated with the manufacturing of a part or assembly, including machine set-up, cycle time, part handling, packaging, and shipping.
MTI Systems, Inc. is a world-leader in the development of innovative cost estimating and quoting software that has provided competitive-edge software solutions, for manufacturing suppliers and OEMS, since 1982.
South Essex Fabricating specializes in fabricating and assembly of commercial greenhouse parts, equipment and structures. As a premier metal fabrication shop, they offer complete solutions from design to installation.
Avior Integrated Products Inc. is a full-service manufacturer of lightweight structures and complex mechanical assemblies. The company provides in-house fabrication using metals, as well as advanced composite materials.
Babcock & Wilcox Canada is a leading, international provider of energy products and services as well as a premier advanced technology and mission critical defense contractor. They are known for delivering high quality, dependable products while providing on time, reliable service.
Durose Manufacturing has undertaken many projects ranging from complex architectural fabrication for some of the most-recognizable buildings in the world to OEM fabricated parts for many Fortune 500 companies across Canada, the United States, Europe and China.
To learn more, contact David LaJoie at MTI Systems, 59 Interstate Drive, West Springfield, MA 01089, 800-644-4318, or visit MTI Systems' website at http://www.mtisystems.com.