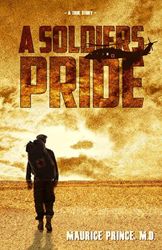 "You aren't fighting this war for their freedom, pal. You're fighting it for your own."
Pensacola (PRWEB) May 23, 2014
With Memorial Day upon us, Indigo River Publishing has released Lt. Col. Maurice Prince's wartime memoir, "A Soldier's Pride."
Maurice Prince was no stranger to being in harm's way. A Lieutenant Colonel in the US Army and Blackhawk helicopter pilot instructor, his main duty was to tend to fellow soldiers in need as a flight surgeon. He could not be more proud to serve his country and fellow man in any way possible at almost any time. Almost.
"A Soldier's Pride," Prince's wartime memoir published by Indigo River Publishing, recounts a day in the doctor's life and the frustration he feels as he is deployed to Iraq in 2004, far away from his new fiancé and right near the battlefield, a place he thought he wouldn't have to go back to. On his 41st birthday, Prince continues to try to make the best of things at Camp Blackjack, and it's not always easy. Between insurgent mortars striking to close for comfort, young soldiers questioning the president's decision to go to war, and one man possibly faking a back injury while another patient is about to suffer a heart attack, he questions why someone of his rank and position should even be there. To one young soldier, Prince warns, "You aren't fighting this war for their freedom, pal. You're fighting it for your own."
"A Soldier's Pride" illustrates the nuances of military life and the stresses and fears that almost every soldier faces in unique and realistic fashion. Instead of depicting battles and the casualties of war, the book shows what appears to be a normal day in a veteran's tour of duty and how he is affected by everything, from little annoying changes in the system to problems that can really disrupt the mission. Despite the setbacks, Prince's commitment to preserving freedom and the gratitude of those he protects keep him going in the shadow of danger.
Prince was born in Texas, graduated from Loyola University, and now lives with his wife and their three sons in Church Point, Louisiana.
For more information on "A Soldier's Pride," visit http://www.indigoriverpublishing.com/.