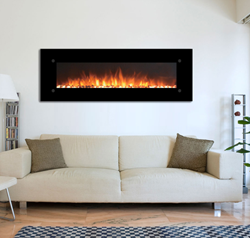 The OnyxXL was made for our clients looking for a larger fireplace for their meeting rooms, reception areas, and great rooms.
Exton, PA (PRWEB) May 28, 2014
Touchstone Home Products announced the release of its newest wall mounted electric fireplace, the OnyxXL 72 inch Electric Fireplace. The OnyxXL fireplace add to Touchstone's line of innovative electric fireplaces and innovative quality home products.
Touchstone Home Products, the leader and pioneer in the design and manufacturer of TV lift cabinets, released this big brother to its popular Onyx wall-mounted electric fireplace in response to customers requests for a wider design for use in larger living spaces. The OnyxXL, a 72-inch-by-22-inch black glass framed electric fireplace with realistic flames, delivers the dramatic effect of a large fireplace to any great room, foyer, reception area or conference room without the fire and smokey smell. The OnyxXL has dimensions similar to the popular Touchstone Onyx, but features a stone based flame and a 44% larger surface area.
"We've really made a point of focusing on and building products our customers have asked for," said Frank Quinlisk, Touchstone Home Products' Vice President. "The OnyxXL was made for our clients looking for a larger fireplace for their meeting rooms, reception areas, and great rooms."
Installation of the OnxyXL is simple, thanks to Touchstone Home Products' innovative mounting system, which makes placing this large fireplace on the wall an easier, level process. The OnyxXL electric fireplace features two heat settings, and will heat a space up to 500 square feet. Each unit comes with a simple-to-use remote control that lets the user control flame intensity, heat level, and use the built in auto-off timer. The flame has five settings, ranging from a soft ember to the full flame top setting. The timer can be used to shut off the unit automatically in half hour increments, up to 8 hours. The heat and flame settings are independent, so the flame can run in any season.
Touchstone Home Products' plans to release the OnxyXL fireplace on a limited basis, initially through its own website TouchstoneHomeProducts.com, and will make them available through its full dealer and e-seller channels in Summer 2014.
About Touchstone Home Products:
Touchstone Home Products is a leader and pioneer in the design and manufacturing of Theater Lift cabinets, mechanical TV lifts and wall mounted electric fireplaces. Founded in 2005, Touchstone offers cabinets in contemporary, traditional, and transitional styles to fit seamlessly in almost any home. Touchstone TV lift cabinets and fireplaces maximize space, enhance in-home entertainment and provide a unique experience to any room in the house. Touchstone's TV lift mechanisms are the industry leader in value priced quality.