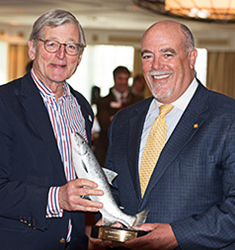 I want to make sure that salmon are still around for the next generation. I don't want to let these boys and girls down.
St. Andrews, New Brunswick (PRWEB) May 22, 2014
The Atlantic Salmon Federation (ASF) presented James Lawley with the organization's highest honor at the Board of Directors meetings in St. Andrews, N.B. today. The award has been presented annually since 1975 in memory of T.B. "Happy" Fraser to an individual who has made outstanding, long-term contributions to wild Atlantic salmon conservation.
Lawley has been an ASF (Canada) Director since 2002. A leader in promoting and practicing live-release angling, Lawley's camp on the Bonaventure River in Quebec was one of the first to be recognized by ASF's Live Release Camp Recognition Program.
"Jim has been the driving force behind the Annual Halifax Fundraiser, acting as Chairman since its inception 25 years ago," said Michael Meighen, Chairman of ASF (Canada), when presenting the award to Lawley today. "Because of Jim's efforts, the dinner has raised more than $1 million over that time period. He has also been a leader in the Clean Up Salmon Farming Campaign that ASF carried out in Nova Scotia and has been a tremendous voice for sustainably-practised aquaculture, including transitioning the industry to closed containment."
Lawley, a recipient of the Nova Scotia Lieutenant Governor's award for salmon conservation, is also a Director with the Atlantic Salmon Conservation Foundation, an important volunteer role in the oversight of funding applications to worthy Atlantic salmon conservation projects. He has also been a great supporter of lime dosing projects to counter the effects of acid rain in Nova Scotia and has sponsored an annual fund-raising golf tournament to support the project on West River, Sheet Harbour.
"What inspires me is the decline of salmon in Nova Scotia," said Lawley following today's award presentation. "I want to make sure that salmon are still around for the next generation. I don't want to let these boys and girls down."
James Lawley is the 39th recipient of the Happy Fraser Award. T.B. Fraser was a former President of the Atlantic Salmon Association in Montreal, who made significant contributions to Atlantic salmon conservation, both nationally and internationally.
-30-
The Atlantic Salmon Federation is dedicated to the conservation, protection and restoration of wild Atlantic salmon and the ecosystems on which their well-being and survival depend. ASF has a network of seven regional councils (New Brunswick, Nova Scotia, Newfoundland and Labrador, Prince Edward Island, Quebec, Maine and Western New England). The regional councils cover the freshwater range of the Atlantic salmon in Canada and the United States.
ASF Contact:
Holly Johnson, Manager of Public Information
(506)529-1033(o)
(506)469-1033(c)
HJohnson(at)asf(dot)ca
To view this story online visit: http://asf.ca//halifax-businessman-jim-lawley-receives-salmon-conservation.html
Join us on facebook: https://www.facebook.com/AtlanticSalmonFederation or Twitter: https://twitter.com/SalmonNews
For high-resolution photography please visit: the ASF Image Gallery: http://www.asf.ca/images.html