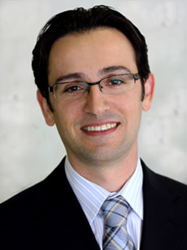 What this study shows is that women across multiple ethnicities often experience an unexpected shift toward heavy menstrual bleeding during menopause.
Beverly Hills, CA (PRWEB) May 26, 2014
A recent study by researchers at the University of Michigan has shown that it's actually common for women going through menopause to experience changes in their period. This can include prolonged bleeding, spotting, and heavy bleeding. The study is titled "Menstruation and Menopausal Transition" and was published in BJOG: An International Journal of Obstetrics and Gynaecology.
"What this study shows is that women across multiple ethnicities often experience an unexpected shift toward heavy menstrual bleeding during menopause," said Peyman Banooni, MD, director of La Peer Health System's Surgical Gynecology Center of Excellence. "It's good for women to know about and anticipate these changes."
Common Causes of Heavy Menstrual Bleeding
Also known as menorrhagia, heavy menstrual bleeding can occur for a variety of reasons. In some women, this bleeding can cause severe pain and discomfort. In addition to the onset of menopause, a number of other factors may be involved in heavy menstrual bleeding. These include:
● Uterine Fibroids
● Uterine Polyps
● Hormone Imbalance
● Pelvic Inflammatory Disease (PID)
● Endometriosis
● Thyroid Problems
● Bleeding Disorders
● Uterine or Cervical Cancer
"While heavy bleeding may simply be a normal and natural function of the body, women who have any doubt about the cause of their bleeding should not hesitate to see a doctor," said Dr. Banooni. "A number of treatment options are available to stop heavy menstrual bleeding and help women get on with their lives."
Treatment for Heavy Bleeding
Oral contraceptives are often an effective treatment for heavy menstrual bleeding. Hormonal IUDs can also be effective. For patients who don't respond to these methods, there are a number of surgical options available.
Hysteroscopy is a technique that can be used to both diagnose and treat heavy menstrual bleeding. During a hysteroscopy, a doctor inserts a small lighted tube through the vagina and into the uterus. This tube can be used to evaluate the uterus and remove certain causes of menorrhagia, such as uterine fibroids and uterine polyps.
NovaSure is another option for treating heavy bleeding. "NovaSure is an ablation procedure that treats heavy bleeding without the use of hormones," said Dr. Banooni. "It uses radiofrequency energy to remove the uterine lining and thereby stop excessive bleeding. NovaSure is not recommended for patients who plan on having children, however, as it affects a woman's ability to get pregnant."
About Dr. Banooni
Peyman Banooni, M.D. is a Los Angeles obstetrician and gynecologist. He is also a gynecologic surgeon with La Peer Health Systems and Cedars-Sinai Minimally Invasive Gynecologic Surgery Center. His clinical interests include treating abnormal uterine bleeding, treatment of fibroids, and advanced laparoscopic procedures. As a member of the Society of Laparoendoscopic Surgeons and the North American Menopause Society, he has written numerous articles for the Journal of the American Medical Association and the Journal of Virology. Dr. Banooni received his bachelor's degree from the University of California, Los Angeles with summa cum laude honors. He received his medical degree from the University of California, San Diego and completed his obstetrics and gynecology residency at Cedars-Sinai Medical Center.
La Peer Health Systems is an outpatient surgery center in Beverly Hills, founded by doctors and focused on providing excellent patient care alongside the most cutting-edge medical treatments available. With 47 world-renowned physicians in 13 specialties, comprehensive medical treatment is offered that takes patients from consultation to diagnosis, treatment, surgery, and ultimately aftercare. The 13 medical departments include orthopedics & sports medicine, gastroenterology, head & neck surgery, colorectal & general surgery, podiatry, ophthalmology, pain management, plastics & reconstructive surgery, gynecology, spine surgery, interventional cardiology, bariatric surgery, and anesthesiology. Unlike large hospitals, La Peer's unique structure offers extremely personal care in a safe and controlled environment.
To learn more about La Peer Health Systems, visit http://www.lapeerhealth.com.