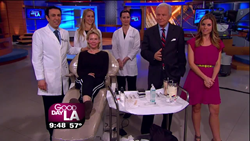 Los Angeles, CA (PRWEB) May 23, 2014
According to the June 2014 issue of Health Magazine, as much as 90 percent of skin cancers, including deadly melanoma, can be traced directly to UV (Ultra Violet) exposure and that 20 percent of all American will be diagnosed with skin cancer in their lifetimes. The article goes on to provide a body part specific primer on the proper application of sunscreen (see goo.gl/Nb4kbo).
"The purpose of this article is to remind people of the importance of proper sun protection," says Dr. Simon Ourian, Medical Director of Epione Beverly Hills. "I've said many times that a great deal of the work I do is the correction of sun damage. The culture of tanning, the idea that being tan is an aesthetic good, is unfortunate from a health perspective, even more so because the consequences aren't immediately apparent. "
The first parts of the body that evidence sun damage, according to the article, are the neck and chest because these areas are particularly sensitive. This entire region should be covered with sunscreen, especially the sides of the neck. Other areas that people should be mindful of are the eyes, lips, and ears. UV ray blocking sunglasses provide a good defense against eye damage. An SPF 30 lip balm provides ideal sun protections for the lips while glosses should be avoided. Using a cotton swab is a recommended way to apply sun screen to the ears.
"I recommend lotions over sprays for sun screen," says Dr. Ourian, "because they are more likely to ensure even coverage. Of course, a spray is good if you don't have someone available to help you put sun screen on your back and other hard to reach areas. Also, I agree that a wide-brimmed hat can provide excellent coverage for the scalp and ears. Finally, it is vital that parents take these precautions with their children."
Dr. Ourian has been a pioneer in laser technology and non-invasive aesthetic procedures including Restylane, Juvéderm, Radiesse, Sculptra, and CoolSculpting. These treatments are used for the correction or reversal of a variety of conditions such as acne, acne scars, skin discoloration, wrinkles, unwanted fat, stretch marks, varicose veins, cellulite, and others. More information about skin care can be found on Epione's website.