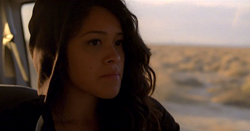 Los Angeles, CA (PRWEB) May 27, 2014
NewFilmmakers LA Film Festival and NUVOtv invite LA audiences to attend the Saturday, June 7th 2014 film screening series and after-party event. Held at the AT&T Center in Downtown LA, the program will highlight some of the finest independent filmmaking hitting today's festival circuit and feature a filmmaker networking lounge with food and drinks throughout the evening.
NUVOtv is the premiere English-language entertainment network created for modern Latinos. Nu Point of View allows talented writers, producers and directors to showcase their works on a national stage. The inspirational story of each selected finalist filmmaker will be profiled at NewFilmmakers Los Angeles and on the NUVOtv network.
Learn more about the entire June 7th NewFilmmakers LA Film Festival and NUVOtv Nu Point of View: The Emerging Latino Filmmakers program below.
NewFilmmakers Shorts Program
No Names - Dir. Isabella Hyams
Bored in your marriage? Desperate for an intimate encounter? The Nonames website database pairs up the espoused and dissatisfied yearning to scratch the carnal itch in the comfort of their own anonymity. Your sexual adventure is a click away. No hassle. No risk. No names. Just dark secrets and deadly lies.
Director Isabella Hyams is best known for directing and writing the TV series "Bitchcraft". She has previously worked as an assistant for director Christopher Nolan on The Dark Knight and has worked for producer Lorenzo di Bonaventura on 1408 and Stardust.
No Names stars actor Josh Stewart (Transcendence, The Collection, The Dark Knight Rises,Criminal Minds) and Monique Gabriela Curnen (The Dark Knight, Contagion, Half Nelson).
Pablo on Wheels - Dir. Brett Sorem
Six months after their parents' deportation, Rey (18) and Pablo (11) do what they can to survive in New York City. The bond of skateboarding keeps them together, but the culture surrounding it begins to split them apart when a single mistake by Rey threatens to take away the last family he has left.
Director Brett Sorem grew up immersed in the skating culture of San Diego, so his goal for Pablo on Wheels was to cast real skaters rather than actors. Lead actor Luis Tolentino currently holds the record for the highest ollie jump at 46 inches. Luis earned a best actor nod for his work in Pablo on Wheels at the Greenville International Film Fest, and Brett Sorem was nominated for Best Director at the Cincinnati Film Festival.
Interstate - Dir. Camille Stochitch
Joaquin is a driving instructor who teaches illegal immigrants how to drive, taking them to Utah so they can get drivers' licenses in a state that doesn't require a SSN. One day, an HSI agent shows up at his door who asks him to help arrest his boss, Lalo, during their next drop-off, or he will be locked away. Will Joaquin save himself or give up the immigrants he has been helping?
Upon graduating from the Sorbonne University in Paris, director Camille Stochitch moved to Los Angeles to attend the AFI Conservatory where she graduated with an MFA in Directing. Interstate is a 2014 Student Academy Award recipient for Best Narrative Short Film. Lead actor Benny Nieves can be seen in hit TV show such as CSI, Weeds, and Castle.
Actress Gina Rodriguez is best known for her performance in Filly Brown, which premiered at the Sundance Film Festival in 2012. Gina was named the "next big thing" and one of the "top 35 Latinos under 35" by the Hollywood Reporter. Her credits include Our Family Wedding, Tiny Dancer, The Mentalist, and Happy Endings.
La Carta - Dir. Francisco Lorite
Victor has the perfect wife, the perfect job, the perfect car, the perfect life. But Victor has a secret: in his clock, he receives a letter everyday listing all the decisions that he has to make--until one day the letter is not there. The NewFilmmakers Los Angeles Film Festival will be the premiere for this Spanish film.
NUVOtv Shorts Program
Elvis - Dir. Nic Santana
17 year old Elvis Delgado finds out his father is being held at an immigration detention center. When Elvis goes to see his father, he soon discovers he himself is also 'illegal.'
Stray Dogs - Dir. Santiago Limon
Sidney Mitchell--a man with a troubled past--spends his days with a one eyed dog in an isolated house near the US Mexico border, until his life changes forever with the arrival of a young illegal immigrant boy, who offers to help Sidney out around the house in return for a ride to Los Angeles.
NUVOtv Feature Program
Dreamer – Dir. Jesse Salmeron
Dreamer opens a window into the reality of many who find it impossible to achieve their dreams because of one insurmountable obstacle. Even though Joe was raised in the United States for all but the first few years of his life, he must live in constant fear of deportation from the country he loves to a place he has never known. The film transcends racial lines and illuminates the immigration debate for what it is: a tragedy that affects all Americans.
A film inspired by aftermath of the Dream Act failing to pass in the Senate, Dreamer stars Jeremy Ray Valdez who is best known for his work in the film La Mission opposite Benjamin Bratt. He has appeared on shows such as 24, CSI: NY, Without a Trace, Closer, and Longmire.
Julio Cedillo is best known for his role in Tommy Lee Jones's "The Three Burials of Melquiades Estrada" which won two Palme d'Or awards at Cannes. He can also be seen in The Walking Dead and Cowboys vs. Aliens.Actress Isabella Hofmann (Dreamer, West End, Burlesque) rounds out this talented cast.
Located in Downtown LA, AT&T Center is the Presenting Venue Sponsor of NFMLA. Founded in 2007, NFMLA has screened over 750+ films from over 43 countries. NFMLA boasts over 20,000 supporters locally. The organization provides a forum where filmmakers can be recognized with title supporters NUVOtv, Sony Pictures Entertainment, Wells Fargo, SAG-AFTRA and LA Weekly.
For information and to purchase tickets to the NewFilmmakers LA June 7th screening, please visit http://www.newfilmmakersla.com/.