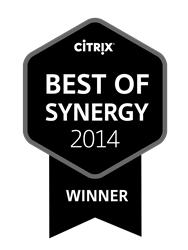 Smartphones and tablets are posing a challenge to giving employees access to critical workflows whenever and wherever they need to complete the transactions. - Oren Ariel
Los Angeles, CA (PRWEB) May 23, 2014
At Citrix Synergy®, on May 6th, Capriza, a leading provider of enterprise mobility solutions, announced it won the Citrix Best of Synergy 2014 Award in the mobility category. Capriza was selected as the winner by popular vote because of its end-to-end enterprise mobility platform that enables IT and lines of business to select the most business-critical workflows and transform them to mobility in a matter of days. The solution is applicable for packaged applications such as SAP or Oracle, as well as home-grown ones.
"We are honored and very excited to have been selected as the winner of Best of Synergy in the Mobility category. Capriza's technology radically disrupts the speed and economics associated with taking businesses mobile and is a perfect solution for companies that are using Citrix products like XenMobile" said Oren Ariel, Capriza CTO and Co-Founder. Ariel added, "Companies have invested billions of dollars over the years in their business applications for the desktop, but smartphones and tablets are posing a challenge to giving employees access to critical workflows whenever and wherever they need to complete the transactions. Instead of re-engineering all existing applications, we offer a solution at a fraction of the cost and time while utilizing existing skills and infrastructure within enterprises."
The Citrix Best of Synergy 2014 Awards recognize Citrix Synergy sponsoring companies who best excel in delivering solutions that solve customer challenges in combination with Citrix products. One winner was selected from each of the four Citrix ecosystem categories – Virtualization, Cloud, Mobility, and Networking - by Synergy attendees via popular vote, over a two-day period.
"The list of high caliber solutions nominated for this year's Citrix Best of Synergy 2014 Awards is impressive and Capriza should be applauded for standing out in the tremendously competitive mobility ecosystem," said Greg Fox, director, Citrix Ready program at Citrix. "Citrix is proud to present Capriza with this Best of Synergy 2014 Award and we look forward to continued collaboration and innovation as new customer challenges and opportunities arise."
About Capriza
Capriza was founded in 2011 by former executives from Mercury Interactive. Capriza disrupts the speed and economics associated with taking your business mobile. Capriza's SaaS platform mobilizes your critical business processes with zero coding and zero APIs. This week. Capriza is headquartered in Palo Alto, CA and funded by Andreessen Horowitz and Charles River Ventures.