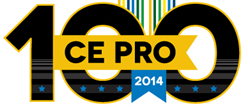 With price-points that continue to drop, integrating the latest in home technology is more affordable than ever.
Frisco, TX (PRWEB) May 24, 2014
Each year, CE Pro Magazine recognizes the top 100 highest revenue residential custom electronics integrators in North America; and Frisco, Texas-based Stereo East Home Theater claims the 33rd position on the prestigious list. Involved in the design and implementation of home technology, residential integrators unify the many electronics systems present in today's modern home. From home theaters to automation to security, integrators ensure the complex systems are easy to operate and manage. "Thanks to a healthy housing market and valuable relationships with partners like Sony and Control4, we rose in this year's rankings," says Stereo East's president, Gary Montagna.
Residential integrators report revenues increased by about 12%, bringing the industry total up to approximately $1.7 billion. According to Mr. Montagna, "Consumers are excited about new technologies such as 4K Ultra HD, and the idea of managing their home using a mobile device is very appealing." With price-points that continue to drop, integrating the latest in home technology is more affordable than ever.
Many integrators throughout the country are taking on commercial projects in an attempt to buffer revenues from the ever-fluctuating residential market. Other firms are growing due to recurring revenue streams or by expanding their service offerings. "Our builder partners and customers expressed an interest in effective but innovative home security, so we launched Stereo East Residential Security at the beginning of the year," Mr. Montagna explains. By combining the latest technologies from GE Interlogix with wireless convenience from Alarm.com, Stereo East can customize a home security system specifically tailored to a client's needs.
Stereo East Home Theater, founded in 1984, has ranked in CE Pro's 100 list for the past seven years. CE Pro is the leading trade publication for the consumer electronics industry, covering topics ranging from integration to audio/video to networking. CE Pro Magazine launched in 1994, and the CE Pro 100 list was first introduced sixteen years ago. Stereo East's impressive showroom is located in Frisco, Texas, and the company proudly serves the Dallas-Ft. Worth area.