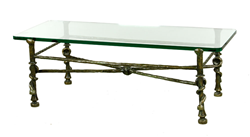 Beverly, MA (PRWEB) May 27, 2014
Kaminski Auctions of Beverly, Massachusetts is pleased to announce monumental success during the first session of their Twentieth Century Modern sale, two Saturdays ago on May 10th.
Early in the sale, a lithograph by Alexander Calder entitled "Navarra" attracted significant attention both online and by phone. Strong bidding competition nudged the final hammer price up to $2,100. Among the lithographs that performed well in this sale was a work by revered Japanese artist, Zao Wou-Ki. Created in the 1960s, the abstract piece achieved an admirable $5,000. Continuing the success for works on paper, was an etching by Peter Milton titled Les Belles et la Bete II, Before the Hunt, which performed considerably well at $1,200, well above the item's conservative estimate.
Among the fine art sold was an unassuming watercolor, Lesbos, by Georges Rouault that clearly caught the attention of several collectors. Brought to the podium halfway through the sale, bidding began at $1,500 and maintained a steady rhythm until finally topping out at $7,000. Despite pre-sale interest, Two Lovers, a mixed media work by Antonio Lopez-Garcia, went unsold during the auction, but found post-sale success when it sold quietly for $40,000.
One hundred lots into the sale, bidders had the opportunity to secure an original bronze furnishing by Diego Giacometti, circa 1965. The patinated bronze Torsade Table garnered much pre-sale interest, and was subject to significant bidding competition. The piece ultimately sold for $150,000.
A small-scale edition of Walking Jackman, by Ernest Trova also sold well. The chromed steel sculpture featured six minimalistic armless male figures and sold appropriately for $6,000. The full-scale installation can be seen at 98 N. Brentwood Boulevard, in Trova's native St. Louis. Being re-offered from the January Modern sale was a similar maquette attributed to Alexander Calder. Thought to be a pre-installation model for Jeune Fille at sa Suite (Young Woman and her Suitors), the mysterious sculptural object was ultimately awarded to an anonymous phone bidder for an impressive $11,000.
Passed lots are now available for after-auction purchase and can be reviewed by accessing the prices realized link on kaminskiauctions.com. Kaminski Auctions is currently seeking new consignments for the upcoming September 28th, 2014 Modern sale. Sale dates and additional information regarding this sale are accessible via the company website.
KAMINSKI
Kaminski Auctions, located on the North Shore of Boston, has been serving the New England antiques market for over 25 years as a full service auction house and appraisal service for fine art, antiques and estates.
With two locations in Beverly, Massachusetts, including a new state of the art auction gallery located at 117 Elliott Street, and a historic 1850's barn and office facility at 564 Cabot Street, Kaminski Auctions hosts 25 auctions a year.
In today's highly competitive market of fine art and antiques, Kaminski Auctions provides its customers with bicoastal services and marketing with west coast offices in Beverly Hills and San Diego, California.
Kaminski Auctions offers specialty departments in Asian Art and Antiques, Silver, Glass and Lamps, Couture and Vintage Clothing, Photography and Modern Design. We have highly trained and knowledgable appraisers on staff that will help you determine the true value of your antiques, or entire collections. Free Appraisal days are offered every Tuesday from 10:00am-4:30pm at 117 Elliott Street in Beverly, Massachusetts & by appointment at our San Diego and New York City locations. We welcome emailed photos of your items! Contact consignments(at)kaminskiauctions(dot)com.
We would like to thank all of our customers, consignors and friends for voting Kaminski Auctions #1 Best Auctioneer on the Northshore - Reader's Choice Award! "Kaminski has earned its gold-star reputation by serving the New England antiques market for over 25 years. Specializing in the sale of Asian art and antiques, silver, glass and lamps, couture and vintage clothing, photography, and modern design, the full-service auction house provides expert appraisal services. From its Beverly art gallery and historic barn comes a wealth of experience with fine art, antiques, and estates values." - Northshore Magazine