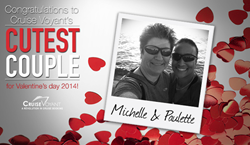 My fiancé and I are getting married Oct 25th 2014 and this cruise will now be our honeymoon trip. - Paulette Pierre regarding their win.
(PRWEB) May 27, 2014
Cruise Voyant, an online cruise booking website, is pleased to announce that the Cruise for Love contest winners have booked their romantic cruise vacation for two. Cruise for Love, which began in mid-January, was a Valentine's Day themed photo submission contest ran on the company Facebook page. Participants submitted a picture of themselves and a significant other along with a story of how they met. Winners of the contest were chosen based on having the most number of votes on their photo. The prize of Cruise Voyant's Cruise for Love photo contest was $1,000 towards a romantic cruise for two.
With assistance from a Cruise Voyant cruise specialist, the winners, Michelle Paulette and Padula Pierre, decided to choose a 7 night Southern Caribbean vacation and will be accommodated in one of the Jewel of the Seas' large ocean view staterooms. Michelle and Padula will travel on Royal Caribbean's Jewel of the Seas later this year. The ship embarks from the port of San Juan in Puerto Rico and will travel to exotic locations such as St. Kitts, St. Maarten, Dominica and Barbados.
"My fiancé and I are getting married Oct 25th 2014 and this cruise will now be our honeymoon trip," said Paulette Pierre regarding their win.
Cruise Voyant is delighted for the lovely couple to embark on their honeymoon cruise and looks forward to more photo contests and cruise giveaways in the future.
More cruises from Royal Caribbean and other lines such as Carnival, Norwegian and Disney are available at http://www.cruisevoyant.com/. To read Michelle and Paulette's winning story, visit our blog.
About Cruise Voyant
Cruise Voyant is a Fort Lauderdale-based cruise agency that is revolutionizing the cruise booking process. Cruise Voyant solves many of today's most difficult booking issues by allowing visitors to view a historic look at how pricing has changed on a particular ship and sail date. Cruise Voyant also offers interactive cruise itinerary maps, and it provides tens of thousands of photos of ships and destinations worldwide. Cruise Voyant helps consumers easily find their dream vacation by empowering them with online advice and insights that will help them easily book and manage their vacation plans.