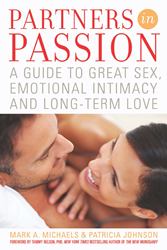 (PRWEB) May 23, 2014
The International Book Awards honor excellence in independent and mainstream publishing. American Book Fest announced the winners and finalists of The 2014 International Book Awards (IBA) on May 21, 2014. Over 300 winners and finalists were announced in over 80 categories. Awards were presented for titles published in 2012, 2013 and 2014.
This year, Partners in Passion, by Mark Michaels and Patricia Johnson, is the recipient of an International Book Award in the category of Self-Help: Relationships. It has also recently won an Independent Publisher Award gold medal for Sexuality/Relationships.
Happily married partners in passion themselves, award-winning authors Mark A. Michaels and Patricia Johnson provide readers with a fun, step-by-step manual to creating a lasting, loving and erotic relationship. Partners in Passion (also available in audiobook) proposes alternative models of long-term connection, founded on mutuality, a collaborative mindset, empathy and transparency. It features interviews with long-term couples and includes an extensive resource guide that covers everything from health to erotica, with excellent advice from many of today's leading sexuality and relationship educators.
Mark and Patricia were also recently featured on My Fox DC as open relationship experts for a series of interviews with people on the street about their views and opinions of the feasibility of open relationships.
See Mark and Patricia in person at these events:
6/23: Shining Lotus Metaphysical Book Store, Denver - 7-9pm
6/25: NV Boutique, Lone Tree, CO - 7-8:30pm
6/26: For Heaven's Sake, Denver - 6-7:30pm
7/17: Bluestockings, New York - 7-9pm
7/18: Secret Pleasures, Washington, DC
8/7: Good for Her, Toronto - 7-8:30pm
10/16: Banyan Books and Sounds, Vancouver - 6:30-8pm