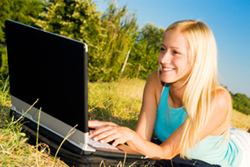 Students can take their courses when and where they want—so they don't have to choose between academics and other summer activities like getting a job, spending time with family and friends, and traveling.
Baltimore, MD (PRWEB) May 30, 2014
Enrollment is open for online summer school at International Connections Academy (iNaCA), the accredited online private school of Connections Academy, a leading provider of high-quality K-12 virtual schools serving over 45,000 students nationwide.
With more than 100 different courses available for students from grades K-12 starting in June, the program helps parents keep their students engaged academically this summer, even as many traditional summer school programs have been cut or eliminated by cash-strapped schools. Families and students are invited to attend the online summer school open house to learn more about the benefits of iNaCA's summer school program.
"Students today embrace learning online, and many of them engage in some form of e-learning everyday throughout the course of the regular school year. Summer school is no different," notes iNaCA Assistant Director Hannah Rinehart. "Thousands of students have found the online summer school learning environment really engaging. They can take their courses when and where they want—so they don't have to choose between academics and other summer activities like getting a job, spending time with family and friends, and traveling," Rinehart observed.
Flexible start dates (June 3rd, 10th, 17th, 24th, and July 1st and 8th) and a wide range of engaging, interactive courses help students stay on track this summer—instead of losing academic ground, like most students*. All iNaCA Summer School courses are drawn from a standards-aligned and public school-tested curriculum, and are accessible and secure from any location with an Internet connection, so students can learn in their homes, or on vacation, 24/7.
Highlights of iNaCA's 2014 Online Summer School program include:

New for 2014—Career Technical Education (CTE) Courses for high schoolers that combine both college preparation and workforce skills development, so students can explore careers in astronomy, business, psychology, criminal justice, and more.
NCAA Eligible Courses are available for high school students seeking original credit or credits necessary for graduation. (Please note important restrictions apply).
Original Credit Courses encourage high school student to satisfy graduation requirements, explore their interests or accelerate their academic progress—in subject areas ranging from digital photography to computer technology to math.
High School Credit Recovery Courses ensure students earn the credits to move forward and acquire the skills to succeed.
Julliard eLearning Music Courses are specialty musical instruction and appreciation courses developed in collaboration with New York's world-famous Juilliard School and are available to students in grades K–12. New courses have been added for Summer School 2014.
Summer Smarts Technology Courses are enrichment courses for students in grades K-8 that combine essential reading and math skills with technology instruction.
Summer Smarts Math and Language Arts Programs allow students in grades 2-8 an opportunity to catch up and review foundational skills.
Parents and students interested in enrolling in iNaCA's online summer school program should visit http://www.internationalconnectionsacademy.com/private-school/programs/summer-school-online-courses.aspx, attend the online summer school open house, or call an Admissions Advisor at 888-440-2899. The program offers 'rolling' start and end dates to give students and their families flexibility to fit their summer schedules.
All young people experience learning losses when they do not engage in educational activities during the summer. Research spanning 100 years shows that students typically score lower on standardized tests at the end of summer vacation than they do on the same tests at the beginning of the summer (White, 1906; Heyns, 1978; Entwisle & Alexander 1992, Cooper 1996; Downey et al, 2004).
About International Connections Academy
International Connections Academy is an accredited, online private school serving students in grades K–12 throughout the United States and abroad. Recognizing individualized instruction as the key to student academic and personal success, iNaCA's highly trained, certified teachers offer instruction tailored to each student's strengths and challenges using an award-winning computer-based curriculum, real-time instruction, and time-tested course materials from leading publishers. Our parent company, Connections Academy, a division of Connections Education LLC, was founded in 2001 by educators and innovators who recognized the power of online learning to transform K–12 education. Connections Education is part of the global learning company Pearson (NYSE:PSO). For more information, visit http://www.internationalconnectionsacademy.com.