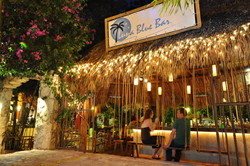 Small hotels give travelers an experience they can't get at mega-resorts or chain properties. - Anthony Head, Owner
Playa del Carmen, Mexico (PRWEB) May 27, 2014
The Luna Blue Hotel in Playa del Carmen, Mexico has just been awarded a 2014 Certificate of Excellence by Tripadvisor, the world's largest travel website. This comes shortly after the small family-run hotel received the prestigious TripAdvisor 2014 Travelers' Choice Award earlier this year. The Luna Blue was the only hotel in the popular Mexican resort town of Playa del Carmen to receive a Travelers' Choice Award for Best Bargain Hotel in 2014.
For a small 18-room hotel owned by an American couple living in the paradise of Mexico's Caribbean coast to receive such honors is very gratifying. "These days, the travel industry seems to focus more and more on large all-inclusive properties and giant chain hotels. So when a small place like ours wins these awards, it shows that people's opinions matter more than corporate marketing campaigns," stated owner Anthony Head. "And we are very appreciative of our many guests who have taken the time to write hundreds of positive reviews of our property."
What makes these awards especially meaningful is that just over a year ago, the Luna Blue Hotel was engaged in a dispute with the giant online booking site Expedia. After this story caught the attention of social media site The Verge and news sites such as SFGate and others, the story of a small independent property going against a mega corporate giant went viral. Having survived this battle, the hotel went on to win multiple awards for service and value.
The Certificate of Excellence is given to the top 10% of hotels worldwide based on consistently high reviews and ratings from its guests. The Travelers' Choice Award is given to less than 2% of hotels worldwide. This is the third consecutive year the Luna Blue Hotel has won a Certificate of Excellence and the second consecutive year it has won a Travelers' Choice Award.
The Luna Blue Hotel is located in the heart of Playa del Carmen, Mexico. Billing itself as a place for travelers--not tourists—the hotel attracts those who want to explore the beauty, food and culture of Mexico and not be limited to the cookie-cutter experience of giant Vegas-style mega resorts.
Contact
Anthony Head, Owner
Info (at) lunabluehotel (dot) com
Calle 26 Norte between 5th & 10th Avenues
Playa del Carmen, Quintana Roo
Mexico
+52 984 873 0990; +1 415 839 8541
###