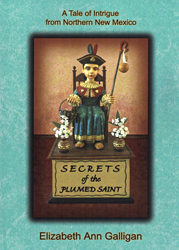 The story, with its artistic flow of words and scenes, offers an intriguing invitation to take a pilgrimage to the Land of Enchantment with its glorious traditions, customs and diverse cultures.
Evergreen, Colorado (PRWEB) May 29, 2014
Brook Forest Voices (BFV), audiobook producer and publisher, announces the release of Elizabeth Ann Galligan's "Secrets of the Plumed Saint: A Tale of Intrigue from Northern New Mexico" as an audiobook narrated by Brian Amador. "Secrets of the Plumed Saint" was a 2013 International Book Awards Finalist in Multicultural, Western, and Religious Fiction, and a 2012 Finalist for Religious Fiction in the New Mexico-Arizona Book Awards.
"Secrets of the Plumed Saint" is a crime novel. But it's a gentle crime, as the theft of the revered statue of the Santo Nino de Atocha is committed with the intention of preserving the church and the community in which the Plumed Saint resides. Ashley M. Biggers of "New Mexico Magazine" said, "(the novel) sings with lyricism and memorable phrases." Brian Amador expertly narrates, weaving the northern New Mexico phrases (referred to by linguists as the Rio Arriba dialect) and terms of endearment Elizabeth Galligan sprinkled into the dialog while introducing the listener to the inhabitants of the tiny New Mexican village of Villa Vieja. The subtle addition of music and mild sound effects brings the entire production to life.
Elizabeth Ann Galligan, Ph.D., poet and educator, retired from teaching in 2007 and began working on her first book "Secrets of the Plumed Saint." A resident of New Mexico, Elizabeth was well equipped to accurately and artistically tell the tale of the little Plumed Saint. "Secrets of the Plumed Saint" is now available on the online BFV Audiobook Store and AmblingBooks.com. It will be available soon on sites including: Amazon, Audiobooks.com, Audible, OverDrive, iTunes, Hoopla, Barnes and Noble, Books a Million, and more. Click here to listen to samples of the "Secrets of the Plumed Saint."
About Brook Forest Voices: A complete audio production studio located just west of Denver in Evergreen, CO, specializing in audiobook narration, production and publishing. BFV is designed to help large and small publishers, as well as authors, with all their audio needs. Publishers and authors wanting to learn more can visit http://www.brookforestvoices.com or contact Jaime Andrade, BFV Business Manager at 303-670-4145.