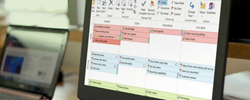 TaskCracker helps people manage activities based on the classic Eisenhower Matrix approach in Microsoft Outlook.
Moscow (PRWEB) May 26, 2014
Managers in large companies and small ones are often overwhelmed by the huge numbers of emails they receive every day. Such information overload can easily cause people to become inefficient by constantly distracting them from important tasks.
One of the most popular time management techniques that can help to solve this problem is the Eisenhower Matrix, which allows people to sort all their tasks and emails according to Urgency and Importance. This technique is based on the belief that Urgent tasks are not always strategically Important. If people spend all their time fighting fire with these Urgent items on their lists, they never get to the issues that really matter.
TaskCracker is an MS Outlook task management add-in that allows people to manage emails and tasks visually, based on a brilliant Urgent/Important Matrix approach. Because it is deeply integrated into Outlook, TaskCracker lets people work with the actual emails they get.
Since 2012, when TaskCracker was first released, employees at many international companies, including Microsoft, SAP, Boston Consulting Group, Capgemini, Disney and IKEA, have started using it to manage their tasks and emails.
The addition of this latest TaskCracker update makes it easier for German-speaking professionals to manage emails based on the Eisenhower Matrix approach (known as Eisenhower-prinzip in Germany).
A free 30-day trial is available for those who want to try managing Outlook tasks and emails with TaskCracker.
For more information, visit the TaskCracker website (http://www.taskcracker.com).