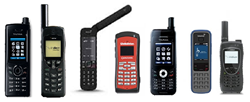 There is no one-size-fits-all solution
Portsmouth, NH (PRWEB) May 23, 2014
GlobaFone, a leading multi-carrier satellite service provider has announced the next installment in the Education Series - a free webinar designed to help buyers decide how to choose the right satellite phone. The session entitled 'How to Choose the Right Satellite Phone presents educational information on constellations, networks and handsets. The webinar is scheduled for May 29, 2014 at 2:00 PM Eastern time. Register HERE.
"There are so many opinions of which satellite phone is 'best'," said GlobaFone CEO Lou Altman. "Best is subjective: different organizations have different requirements and there is not a one-size-fits-all solution."
The webinar looks beyond the marketing hyperbole to the constellations, networks and devices. More importantly there are questions every buyer needs to be asking in order to ensure their users have the proper phone for their location, geography and functionality requirements.
"There is a whole lot more than just the phone that one must consider when buying satellite phones," said Altman. "The lowest price may look great for example, but if the phone will not work where you are located, you may as well not have it. This webinar will break through many pre-conceived notions and help guide participants to a definitive answer."
Here is the webinar registration information:
Title: How to Choose the Right Satellite Phone
Date: Thursday May 29, 2014
Time: 2:00 PM - 2:45 PM EST
Register: HERE
ABOUT GLOBAFONE:
GlobaFone of Portsmouth, NH is an award-winning, leading service provider of satellite voice and data solutions to Federal, State and Local Governments, and corporate clients. GlobaFone solutions include five brands of satellite communications – Iridium, Inmarsat, Globalstar, Thuraya and VSAT. GlobaFone also provides cellular service for rent or lease with coverage across the planet.
###