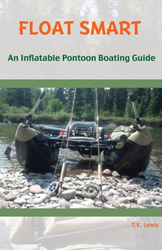 In the end, it's up to the individual on how to approach recreation on water but keep in mind if you have to be rescued many lives and resources are at stake.
Schaumburg, IL (PRWEB) May 26, 2014
eBooks2go, Inc. is proud to announce the release of author T.E. Lewis' Float Smart – An Inflatable Pontoon Boating Guide. T.E.'s partnership with the firm will help bring his vast knowledge of pontoon boat and river safety to the electronic reader public and enthusiasts around the world according to company CEO Ramana Abbaraju.
T.E. Lewis is the founder of Float Smart and the Float Smart Workshop. Both entities are designed to bring awareness to the exciting outdoor activity of inflatable pontoon boating. His book is a dynamic discussion of inflatable pontoon boat navigation, equipment, and safety concerns which have been taught across Montana. Lewis now brings this awareness message, which includes in-the-field examples, to you with this thought-provoking benchmark. A timeless read for river and lake recreationalists alike, Float Smart – An Inflatable Pontoon Boating Guide, provides insight for those new to inflatable pontoon boats while also acting as a great refresher to preview before the new float trip season.
This cognizance concept began from a float trip Lewis took years ago where he reached his destination only to meet a family where the wife and child had to be rescued off an island on the Flathead River located in Northwest Montana. Knowing that the couple had been floating this big river, each in a one man inflatable pontoon boat with children in the back cargo area, sparked a concern for the safety of those enjoying floating adventures on rivers. Lack of preparation and lack of knowledge can quickly translate into tragedy. It was one of those defining moments that made T.E. want to do something to help others to more safely enjoy this outdoor leisure activity that has brought so much excitement to him personally.
When asked to reflect further on the effect of that defining moment, Lewis stated,
"It made such an impact on me that I altered my personal recreation plans, spent years filming the interior of rivers and lakes, and finally planned instruction of a workshop tailored to inflatable pontoon boat use and safety that has been taught across the state of Montana."
"I've been asked numerous times how this awareness message could be taken to other sportsmen and recreationists on a wider scale. Therefore I assembled this book - which can be referred to again and again with each season as a refresher. If you're new to inflatable pontoon boating, may I be the first to say, welcome to the exciting world of floating rivers, lakes, and streams!"
Lewis' exemplar-based text is available for your reading pleasure today on the web, as well as tablet, phone, or eReader devices. For more information on this title you can contact T.E. Lewis at telewis(at)live(dot)com or eBooks2go at (847) 598-1150.
eBooks2go helps independent authors and publishers with digital book conversion services.