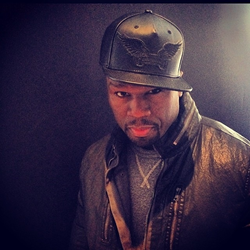 (PRWEB) May 23, 2014
Robin's Jean released a photo of 50 Cent taking a "selfie" in the brand's popular leather cap.
Hip-hop star and business mogul 50 Cent posted a selfie on his Instagram wearing a Robin's Jean black leather cap with the signature wings logo while on tour in Warsaw, Poland.
The performer has taken a liking to Robin's Jean over the past several months and has recently performed at SXSW in Austin, Texas wearing Robin's Jean top selling "Motard" biker pants in red. Celebrity stylist Erin McSherry likes to keep options clean and simple for him with his busy schedule. His new album "Animal Ambition" drops on June 3, 2014.
Robin's Jean features a unique collection of jeans, jackets, tops, hats and belts for men and women designed by Robin Chretien. Represented by the gold wings logo, Robin's Jean captures Robin's childhood dream of freedom and flight.
Robin arrived in Los Angeles in 1996 and by 2005, he decided to incorporate his passions for designing clothes, riding motorcycles and vintage cars with his fascination of Native American Indians to create his own line, Robin's Jean.
The brand is Made in the USA with four Robin's Jean Flagship store locations; Beverly Hills, CA; Soho, New York; Laguna Beach, CA; Paramus, New Jersey and Ibiza, Spain, and more to come!