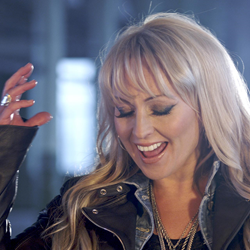 London (PRWEB UK) 24 May 2014
The first single from North Country Rock Queen Rebecca Bains – Hard Road – is enjoying great success in its first week of release. The single from Rebecca's upcoming debut album is currently charting in the iTunes UK Country chart, in the Greek chart and being played on radio in numerous countries.
Hard Road reached number 33 on the iTunes UK Country chart while reaching number 29 in the iTunes Greece chart. The infectious song is also being played on radio featuring on Bumps Radio Bristol and numerous Greek radio stations in the past week.
"It is lovely that people all over the world are enjoying my music. It means so much that people get something out of the music because it's for them and I feel proud that someone somewhere is dancing away or singing along to it!" said Rebecca Bains.
With further radio play in the next few weeks in the UK and abroad, the single has the potential to shoot up in the charts even further. The song features traditional country rhythms with a modern twist all enveloped by Rebecca's powerful and dulcet voice.
Talking about the motivation behind her first single, Rebecca said, "The song means a lot to me and the people who have helped me along the way. It's been a hard road at times and sometimes it's felt there were tonnes of obstacles in the way. I've been so lucky in life though and had some incredible support. It was the perfect single to introduce my music to a wider audience of music fans."
"My focus is on producing the best music I can and I am extremely grateful to the fans of the music for buying my first single and the lovely things people have said about it. I have met some amazing people in my life and experience has taught me that life can be a bit rough sometimes so its vital to always be as nice as you can be, as positive as you can be and not take yourself too seriously. It can be a world full of tough things sometimes and if I can make music that identifies with that and tries to make things that bit better then I can try to make a difference," Rebecca said.
Keeping up with the momentum of the first single, Rebecca will be interviewed on radio and will perform various live gigs in the coming weeks to continue spreading the uplifting message of her music.
About Rebecca Bains
Rebecca Bains is a singer songwriter bursting on the music scene with a sound that combines elements of country, pop and rock. Her songs are full of catchy melodies, provocative lyrics and the soul in her voice comes through in a musical style that marries all this in her own compositions. Whether a haunting ballad or 'bar brawl' rock, her unique sound shines through in every note.
Born in Yorkshire to a working class family, Rebecca is extremely proud of her heritage. Her mother and grandmother were Opera singers, and her father was a musician too. Rebecca's influences are diverse. There is a list of artists she admires and for a host of different reasons: Bob Dylan, Bruce Springsteen, Johnny Cash, Kate Bush, Muse, Coldplay and Pink are just a few in the list of artists who have had a direct and lasting impact on her musical style.
Rebecca's music does seem to carry a unique message of light and her live performances are uplifting events. She is also a patron of a dog charity and takes her staffy rescue dog everywhere with her. Her single 'Hard Road' is out now and various tours are planned to coincide with the release.
For more information see http://www.rebeccabains.com.