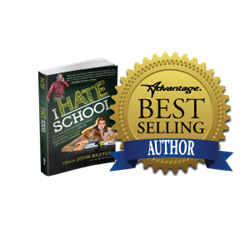 ...An Incredible Platform for the Difference a Coach Can Make in the Lives of the People They Coach
Los Angeles, CA (PRWEB) May 23, 2014
College Football Coach and founder of Academic Gameplan John Baxter has earned national recognition for his latest book, "I Hate School".
As a result, Coach Baxter has been invited to be a featured presenter at the 30th Annual Chicago Tribune Printer's Row Lit Fest. This event is considered the largest free outdoor literacy event in the mid-west and draws more than 150,000 attendees.
Great writers are the foundation of the Printers Row Lit Fest, which aims to start a citywide conversation about books and ideas. Each year, Printers Row Lit Fest hosts more than 200 authors, performers and presenters in a variety of programs.
Coach Baxter, along with Pro Football Hall of Fame Coach Marv Levy will appear at the Lit Festival Saturday June 7th at 1PM. Coach John Baxter, most recently with the University of Southern California and Coach Marv Levy will be Co-Panelists in a moderated discussion about education and mentoring young people through their coaching relationships.
While both Coaches seem to have gone a different path in their professional lives as Coaches, both come from similar backgrounds. Both attended Chicago area High Schools, both attended small colleges in Iowa, and both had their beginnings in Coaching as Special Teams Coaches. Mixing their unique backgrounds, experience, quick wit, and sincere intent to inspire positive change, the event will be nothing short intriguing.
Their books "I Hate School" and "Between the Lies" provide an incredible platform for the difference a coach can make in the lives of the people they coach. Additionally, their unique perspectives make this a must see presentation for any one that is interested in sports, leadership, and the advancement of today's youth.
More about Coach Baxter, and why the Tribune chose him can be found at Academic Gameplan's website.