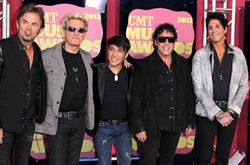 Denver, Colorado (PRWEB) May 23, 2014
Like a blast from the past, classic San Francisco Sound rockers Journey and The Steve Miller Band appear to be riding a wave of nostalgia across the nation. In fact, those who haven't stopped believing have driven ticket sales to the top of concert queues across the country.
After kicking things last week at the Sleep Train Amphitheatre in Chula Vista, California, the rockers will ride coast to coast before wrapping up in Norfolk, Nebraska on August 31, 2014. Another Bay-area act, legendary Rhythm and Blues band Tower of Power, is along for the trek to provide added support.
"The current road trip is set to last over three months and hit more than 40 cities across North America including Los Angeles, Atlanta, Chicago, Toronto and Detroit among several other major markets," said Marta Ault at online ticket marketplace BuyAnySeat.com.
"As a result, tickets to see Journey and The Steve Miller Band continue to trend at the top of national sales queues. That's why we're proud to offer fans the most complete and continually refreshed selection of concert tickets available online, with a worry-free guarantee to protect their purchase," added Ault.
"To access the complete inventory of cheap Journey and Steve Miller tickets we have available – as well as the entire inventory of seats available – fans can go to BuyAnySeat.com and search for Journey and Steve Miller – then select their tickets."
While Journey has been a major player in the arena rock scene for decades, the band's fame was recently resurrected in the states during the San Francisco Giants' World Series run in 2012. The ball club picked the band's '80s monster hit "Don't Stop Believin" for its anthem as they charged towards a championship.
Journey has recorded numerous hits including "Wheel in the Sky", "Faithfully" and "Any Way You Want It" among many others. "Don't Stop Believin" propelled the band to global stardom and is the top-selling catalog track in digital history with over six million digital copies sold. Until recently, it was also the best-selling rock song in digital history until it was surpassed by Imagine Dragons' "Radioactive" in January 2014. "Don't Stop Believin" still stands as the top-selling song from the 20th century on iTunes however.
Journey has sold more than 80 million albums worldwide since the band's formation in San Francisco in 1973. The Diamond-certified group also owns 19 Top 40 singles and 25 gold, platinum and multi-platinum albums. In 2011, Billboard awarded the band the esteemed "Legend of Live Award" at the Billboard Touring Awards. The achievement honored the group's contributions to live music and the touring business and acknowledged their commitment to fans and the art of performing live.
The band's 2011 World Tour was one of their most successful ever after drawing nearly a million fans, and was also among the top 15 that year in terms of ticket sales. In 2013, Journey toured four continents and performed to more than half a million fans.
The band shares their hometown of San Francisco with tour mates The Steve Miller Band, who first broke big in the '70s with hits "Space Cowboy", "Take the Money and Run" and "The Joker". One of rock music's all-time greats, The Steve Miller Band's signature blues-rock sound has made the group one of classic rock's defining artists, especially with more than 30 million records sold in a career spanning over 40 years.
In addition, 2009-2012 marked four of the busiest, most productive years in the long, illustrious career of the band. While "Wide River" in 1993 was Miller's only studio release of new material between 1988 and 2010, the group released "Bingo!" in June of 2010. A successful assortment of blues covers and "Let Your Hair Down", a companion release to Bingo hit 10 months later in April 18, 2011.
To shop for cheap Journey and Steve Miller Band tickets, visit BuyAnySeat.com. To save to even more, enter coupon code "BAS2014" during checkout.
About BuyAnySeat.com: An online ticket marketplace, BuyAnySeat.com connects sports, theater and other live entertainment fans to an extensive worldwide network of ticket sellers. The site's simplified listings and navigational tools enable fans to easily locate, compare and purchase inexpensive, discounted or lower-priced tickets to virtually all advertised sports and entertainment events around the globe.
The online marketplace, which is PCI-compliant and Norton Secured, also provides customers with a complete Worry-Free Guarantee on all ticket purchases. Based in Denver, Colorado, BuyAnySeat.com is a subsidiary of Denver Media Holdings. For more information, please visit http://buyanyseat.com.