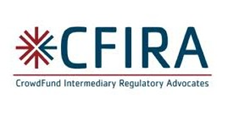 New York, NY (PRWEB) May 23, 2014
The Crowdfund Intermediary Regulatory Advocates (CfIRA) will be holding their monthly educational series webinar June 1 at 1:00 PM EST. This month's topic, "Angel Investing 101," will cover opportunities in the space, how to find good deal flow and the trends and forecasts affecting angel investors, startups and other entrepreneurs in the crowdfunding space.
Established after the signing of the Jumpstart Our Business Startups (JOBS) Act, CfIRA is an advocacy group formed by the investment crowdfunding industry's leading platforms and experts. The group's webinars are just a portion of the work it does; members often work with the Securities and Exchange Commission (SEC), the Financial Industry Regulatory Authority (FINRA) and other affected governmental and quasi-governmental entities to help establish industry standards and best practices.
"Angel Investing 101" will cover topics such as:

What do you look for in a company?
How should angels conduct due diligence?
Best practices to build a portfolio of startup investments
How can individual investors leverage angel groups and platforms?
Confirmed panelists include well-known angel leaders like:

Past webinar topics have provided insight and guidance on industry terms such as general solicitation and crowdfunding intermediaries, and CfIRA designed June's educational webinar to one of its most effective yet.
"As the JOBS Act continues to make startup investing more mainstream, educating new angel investors has become more critical than ever," says Ryan Feit of SeedInvest. "Therefore, I am especially excited to moderate the upcoming panel with four of the most prominent angel group leaders in the country."
As usual, CfIRA will stream "Angel Investing 101" live and encourages everyone interested in capital raising, investing and crowdfunding to attend!