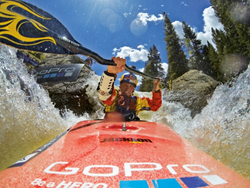 I believe we're the first hotel to actually discount room rates for guests who include their dog in their Vail adventures.
Vail, CO (PRWEB) May 29, 2014
America's Best Summer Job winner Benjamin Solomon will have quite the introduction to his new position when he arrives at his first Colorado home, a suite at the Antlers at Vail hotel, just in time for the popular summer GoPro Mountain Games, June 5-8, 2014, in Vail, Colorado. While staying at the Antlers at Vail, Solomon will also attend the Outside Adventure Film School – another Antlers at Vail guest from June 4-11 and featuring a public film festival at the Antlers on June 10. And he may just run into VIP guest Floyd, the skateboarding bulldog who calls Antlers at Vail home during the games, proof of the hotel's status as the Official Dog-Friendly Lodge of the GoPro Mountain Games.
Non-celebrities who want to enjoy Vail's June excitement with the behind-the-scenes angle of an Antlers stay can enjoy a 40-percent-off special during the GoPro Games, with rates starting at $168/night – plus a chance to film their own adventures with the Antlers' complimentary GoPro loaner cameras for guests. And guests who bring their dog along receive an extra $15 discount for including Fido in the fun.
"Some hotels have pet-friendly policies," says Rob LeVine, Antlers at Vail GM, "but I believe we're the first hotel to actually discount room rates for guests who include their dog in their Vail adventures. It just seemed like an appropriate twist for the games, which bring a lot of dog participants to town for events like DockDogs," he says, adding, "Hey, maybe we can get Benjamin to bring a dog."
Benjamin Solomon is the Brooklyn resident – and experienced journalist/editor – who scored America's Best Summer Job, a Vail Mountain Resort contest offering a six-week work/play stay, experiencing all that Vail has to offer in summer – concerts, events, festivals, hiking, biking, rafting, fishing and more. Benjamin will be calling the hotels of Vail home, starting with his Antlers at Vail stay during the GoPro Mountain Games and Outside Adventure Film School. He'll track his adventures through blog posts, videos and social media, so keep an eye out for the #VailBen hashtag including on Antlers at Vail's Facebook page.
Billed as the country's largest celebration of adventure sports, art and music, the GoPro Mountain Games return to Vail this June with a chance for professional and amateur athletes from around the world to compete in nine sports and 25 disciplines on the mountains and rivers of Vail for more than $110,000 in prize money. Events include a variety of adrenaline-junkie versions of kayaking, rafting, biking, climbing, fishing, SUP, slackline, running and dog competitions. Free concerts, films and more complete the wild and woolly mix. For details and a full schedule visit http://www.mountaingames.com/ summer.
The Outside Adventure Film School will once again be in residence at Antlers at Vail in June, giving its attendees VIP filmmaker access to the mountain games as well as technical courses on pre-production and editing. The week wraps up with a special Vail Symposium program, "Cliffs, Creeks and Canyons: Screening Adrenaline," featuring a presentation and screening from award-winning outdoor adventure film pioneer Michael Brown, followed by a showcase of the just-created film school student shorts. The event will be held at the Antlers on June 10, 6-8 p.m. Tickets are free/$10 suggested donation.
About Antlers at Vail hotel:
The Antlers at Vail hotel offers a relaxed Vail lodging experience in a fabulous mountain setting and was recently awarded a TripAdvisor Certificate of Excellence and GreenLeader status. With condominiums ranging from studio suites up to four-bedroom penthouses, every unit at the Antlers enjoys a fully-equipped kitchen, fireplace, private balcony, daily maid service, and complimentary wi-fi and parking. The Antlers has an A+ location on the banks of Gore Creek, just steps from restaurants, galleries, shops, free Vail town shuttle and the Lionshead Gondola. And Antlers' staff is always ready to help with – and offer an insider expert take on – dinner reservations, activities or any other guest request. For more information, call 1-800-843-8245 or visit http://www.antlersvail.com.
Contacts:
Rob LeVine, General Manager, The Antlers at Vail, RLeVine(at)antlersvail(dot)com, 970.476.2471; Anne Parsons, WordenGroup Public Relations, anne(at)wordenpr(dot)com, 303.777.7667