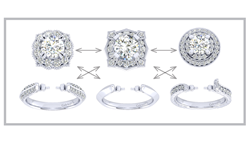 New York, NY (PRWEB) May 23, 2014
Gabriel & Co., one of today's most prominent bridal jewelry houses, is literally letting brides play the role of designer with the launch of "Perfect Match," a customizable new bridal collection launching at the JCK Show on May 29th in Las Vegas. Boasting 12 different styles of heads and 49 matching bands, Perfect Match allows brides to pair their favorite styles together in hundreds of unique combinations of engagement ring and wedding band looks. In a nod to today's tech-savvy consumers, brides (and grooms) will be able to design their rings at their local Gabriel & Co. retailer, on the company's website or with a new interactive iPad application.
According to leading bridal publication The Knot, 42% of brides customize their rings.* Unprecedented in the fine jewelry industry, Perfect Match marks the first time brides can actually mix and match settings and center stones live and see instant results. Heads and shanks are displayed separately and fit onto each other, allowing consumers to see the ring in its finished form before making the purchase. Wedding bands can be included in the mix, adding another dimension for couples who prefer the experience of personalizing their weddings sets while preventing surprises when the product is finished.
Hand made with 14K gold and diamonds, Perfect Match features 12 floral, contemporary and Victorian settings which are designed to be paired with 49 band styles, enabling couples to create their own "Perfect Match." The collection offers vintage elements of soft micro pave diamond work, milgrain edging and intricate engraving, as well as modern settings with elegant, clean lines. As with all Gabriel & Co. jewelry, each piece is carefully crafted with impeccable attention to detail.
The Perfect Match concept was created to make the design process easy and accessible to busy, budget-conscious and discerning brides. Consumers can select from halo-set round or princess cut center stones ranging in size from 0.5 to 2 carats. For couples on-the-go, Gabriel & Co. is launching virtual experiences with both web and iPad application platforms. The user-friendly technology allows brides to click on their favorite styles and easily create a multitude of looks; then streamlining the process by saving, emailing and requesting live presentations of their personal designs at their local Gabriel & Co. retailer. Retail prices start at just $1,260 and finished rings can be made to order in 10 business days. More information is available at gabrielny.com/perfectmatch and ipad.gabrielny.com.
"Perfect Match is one of our most exciting collections to date," states Designer, Dominick Gabriel. "Most brides want to participate in the design process and our goal is to make it effortless. All you have to do is just mix and match until you create the ring of your dreams. This is such a pivotal moment in a couple's journey; Gabriel & Co. wants to help make the experience of purchasing a custom ring easy, fun and accessible."
About Gabriel & Co.:
Gabriel & Co. is an established fine jewelry design house. Founded in 1989 in Manhattan by brothers Jack and Dominick Gabriel, the aptly named Gabriel & Co. has grown into a world-renowned brand amongst consumers and within the fine jewelry industry. Most recently voted the most preferred and the most profitable brand by both JCK Magazine's Retailer Survey and INSTORE magazine's annual Big Survey, the story of Gabriel & Co. is one of timeless designs, hand crafted fine jewelry and stellar quality. For more information, visit http://www.GabrielNY.com.
*Source: The Knot, Annual Engagement & Jewelry Study, February 2014
###