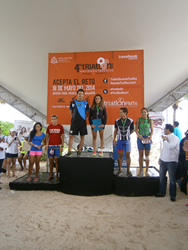 Riviera Maya, Mexico (PRWEB) May 23, 2014
Sunset World Resorts & Vacation Experiences, with resort properties in Cancun and the Riviera Maya, Mexico, successfully completed its 4th Annual Hacienda Tres Rios Triathlon on May 18 with more than 400 triathletes from around the world.
Now recognized as a top sport tourism event for the region, the triathlon featured 750 meters of swimming, 20 kilometers of bicycling and 5 kilometers of footrace, attracting top triathletes such as Marcos Velazquez, who is now preparing for the World Triathlon ITU 2014 in Edmonton, Canada, and Ruben Grande, amputee from the right knee for the first time this year, a special children's category was added for those between the ages of 6 and 15 years old, in addition to the traditional sprint category for youths from age 16 to adult.
During the Hacienda Tres Rios Triathlon weekend, participants and their families, guests and visitors enjoyed the natural surroundings of the Tres Rios Nature Park, as well as an "Accept the Challenge" Expo presented by health and sports experts and a "Celebrate the Challenge" Party featuring music, entertainment, food and beverages.
Sunset World Resorts & Vacation Experiences offers all-inclusive plans, its own marina, yacht club, equestrian center, rental car operations, wellness spas, golf privileges and travel services. In addition to the Hacienda Tres Rios Resort, Spa & Nature Park and Sunset Fishermen Resort in the Riviera Maya, Sunset World operates Sunset Royal Beach Resort, Sunset Marina Resort & Yacht Club, Laguna Suites & Spa and Ocean Spa Hotel in Cancun. For more information, go to http://www.sunsetworld.net.