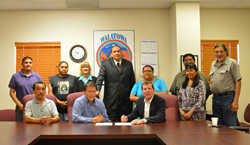 Santa Fe, NM (PRWEB) May 22, 2014
The Southwest Association of Indian Arts (SWAIA), the private non-for-profit organization that produces the annual Santa Fe Indian Market signs a strategic alliance agreement with the Pueblo of Jemez to support local American Indian Artists with specific attention to the development of community-based Native Art Markets.
SWAIA Interim Chief Operating Officer Dallin Maybee, board chairman Stockton Colt, Chief Development Officer Charlene Porsild and Director of Public Relations and Marketing John Paul Rangel met with Jemez tribal officials including Governor Joshua Madalena and 2nd Lieutenant Governor Isaac Romero to sign this agreement which ultimately serves Native artists through increased positive exposure, opportunity for art sales, and education in market operations.
Jemez Pueblo is a federally recognized American Indian tribe with more than 4,000 tribal members of which many are multi-generational artisans. Many Jemez Pueblo artists proudly participate in Indian Market. SWAIA represents the interests of Native artists in a variety of ways and desires to work in partnership with many Indian tribes across New Mexico and the U.S.
After addressing tribal members and officials in attendance in his Native Towa language, Governor Madalena said that this agreement "pays tribute to our ancestors" and his measure of success from a community perspective meant "being able to present the best quality of work to the world." He offered, "As an artist, it's very exciting!" He explained, "The tribal council passed a resolution to support this alliance. This is a good day for the Pueblo." Jemez tribal member and respected artist Cliff Fragua agreed, "[This agreement] It's a win, win! We should find ways to support each other instead of compete."
About SWAIA Santa Fe Indian Market
The Santa Fe Indian Market exists to provide a platform for established and aspiring Native/Indigenous artists to nurture and sell the art they create.
###
Contact: John Paul Rangel, PhD, Director of PR & Marketing, SWAIA, 505.983.5220, jprangel@swaia.org