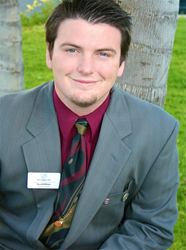 VISTA, Calif. (PRWEB) May 22, 2014
Russell Wilson of the Boys & Girls Club of Vista was named as the California State Youth of the Year among 8 other Boys & Girls Club candidates throughout the state. The ceremonies were led by BGCA Alumna Lucille O'Neal, mother of Shaquille O'Neal at the Sofitel Hotel in Redwood City attended by 300 guests.
Russell won a $10,000 scholarship from Tupperware Brands, the recognition program's national sponsor as well as other scholarships. Russell will now compete regionally at the Pacific Region Youth of the Year competition in Huntington Beach in July. The regional winner competes at the national level and is given nearly $100,000 in academic scholarships.
The Youth of the Year is the highest honor a Boys & Girls Club member can receive. As BGCA's premier youth recognition program, Youth of the Year recognizes outstanding contributions to a member's family, school, community and Boys & Girls Club, as well as overcoming personal challenges and obstacles. Youth of the Year encourages Club members to reach their full potential by achieving academic success, leading healthy lifestyles and contributing to their communities. Youth of the Year honorees are shining examples and living proof that great futures start at Boys & Girls Clubs.
"Russell overcame tremendous adversity as a child. Both parents were drug addicts and incarcerated. Wilson was thankfully adopted to a caring family and began to blossom at the Boys & Girls Club of Vista. He excelled at the karate program and became a very confident, compassionate and charismatic youth leader.
He attended the Boys & Girls Club of Vista for 11 years. Instead of turning that anger and leading himself down a negative road, Russell used that emotion to become a leader that truly cares for others more than himself.
"He is a testament to the impact that a caring mentor and Boys & Girls Clubs make in the lives of kids especially those kids that need a Club the most. We are so proud that Russell was recognized for his exceptional character, servant leadership and outstanding achievements" said Matt Koumaras, Executive Director of the Boys & Girls Club of Vista.
Russell graduated Mission Vista High School with a 4.0 grade point average currently attends Mira Costa College. He plans on transferring to UC-Santa Cruz to major in music. In his quest to pay it forward, he works part-time as a Program Specialist at the Boys & Girls Club of Vista teaching music.
For more information about the Boys & Girls Club of Vista, please contact the Club at 760-724-6606 ext. 24 or visit the Club's website at http://www.bgcvista.org.