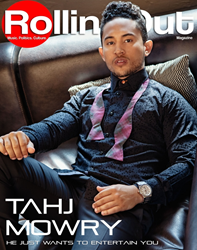 I've always had a passion for entertaining, and for making people laugh.
Atlanta, GA (PRWEB) May 30, 2014
For Tahj Mowry, the road to this point in his career has been long and winding. But it's led him back to the place where he always belonged … in our living rooms week in and week out, sharing laughs. It's what he was made for, and Mowry has long accepted that calling. Maybe that's why he was humming throughout his rolling out photo shoot.
"I've been very busy working on the ABC Family sitcom, 'Baby Daddy. We are currently in our third season, and it's going really great. The fans are loving it; and they are seeing me in a new character," Mowry says of his character Tucker.
During the interview with celebrity photojournalist DeWayne Rogers, Mowry talks about his other creative passion. "When it comes to acting, I've always had a passion for entertaining, and for making people laugh. On the music side, I really want to come out as an artist because I want people to see who I really am … artistically, I tend to be drawn to the darker things. What the music will be able to do is show people that I am an adult now."
Visit rollingout.com to read the interview in its entirety. Be sure to check out the exclusive photo shoot and video footage with celebrity photographer DeWayne Rogers.
About rolling out Magazine:
Rolling out, the nation's largest free urban weekly, is a digital and print magazine that focuses on the black experience in response to entertainment, politics, fashion, culture, sports and lifestyle points of interest. Headquartered in Atlanta, rolling out is positioned as the voice for the African American experience, using its newspaper as a platform in the marketplace to express urgency for education reform, and to document entrepreneurial endeavors and other relevant issues in the Diaspora. For information on rolling out, please log on to rollingout.com.