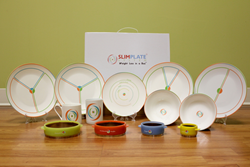 If a diet helps lose weight but not keep it off then that is a temporary weight loss, not permanent weight loss.
Rock Hill, South Carolina (PRWEB) May 23, 2014
There are many purported ways of dieting. Many are mainstream and effective in losing weight but not keeping it off. "If a diet helps lose weight but not keep it off then that is a temporary weight loss not permanent weight loss," says Dr. Sandeep Grewal, a primary care physician in Rock Hill and creator of the SlimPlate System.
Here are the five diet fads that may help lose weight but won't maintain the weight loss.
1. Counting Calories: It is hard to count calories every single time. Therefore any weight lost by counting calories cannot be sustained because of loss of interest in tracking calories. Human nature and brain cannot sustain a long term interest in tracking these calorie points.
2. Low Carb Diet: Although low carb diet is very effective for temporary weight loss it is not sustainable. The brain uses glucose derived from starches aka carbs for energy therefore carbs form essential part of the diet. As this energy source of the brain depletes, the brain issues strong craving signals for the carbs to replenish the stores. Eventually no amount of will power can withstand brains demand for carbs or rebound weight gain.
3. Very Low Calorie Diet: A diet based on very low calories is not only dangerous but also puts the body in a constant hunger state. Human body is not designed to sustain hunger for long periods of time. It slows the metabolism and then even smaller amount of food can cause weight gain. A constant state of hunger also increases craving for calorie dense foods resulting in complete breakdown of the diet plan.
4. Skipping Meals: Our food consumes most calories unless it is an aggressive work out. Skipping meals puts the body in starvation mode that slows down the metabolism and increases craving for junk food.
5. Low Fat Diet: The failure of this diet signifies why it is important to eat balanced diet when dieting. Trying to make food fat free results in a high carb meal due to substitution. High carb diet then causes rebound weight gain.
What this means is that only a balanced diet will be helpful in maintaining weight. Portion control is king of all diets and is key to be able to eat a balanced diet so that one can lose weight and keep it off.
Dr. Sandeep Grewal is a practicing primary care physician and the creator of SlimPlate System, a portion control weight loss system that allows real food and helps learn good eating habits while using SlimPlate System. He has appeared on many television shows such as PBS, Charlotte Today, Indystyle and more. More information on SlimPlate System can be found at the weight loss website which also has a free online weight loss program.
This article is for general information purpose only and does not imply medical advice or patient physician relationship.
Media inquiries: manager(at)acemedicalgroup(dot)org