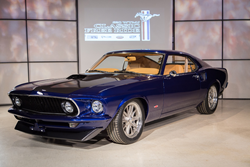 We are pleased to celebrate 40 years of serving the residents of Southeastern Wisconsin. - Kandy Raether, Home Care Medical, VP of Sales and Marketing
NEW BERLIN, WISCONSIN (PRWEB) May 23, 2014
Home Care Medical, Inc., one of Wisconsin's largest and most respected providers of home medical equipment, respiratory care and rehab technology, is pleased to host a 40th anniversary celebration on Saturday, May 31, at our Milwaukee Retail Store, 4818 South 76th Street. During the celebration, Home Care Medical will be teaming up again with WTMJ for their Classic Free Ride event where folks can register to win a 1969 Valenti Mustang Resto Mod.
Doors open at 9 a.m. and attendees are welcome to register for Home Care Medical prizes; check out special one-day only clearance sale items and test drive the Ultimate Man Cave Chair.
From 10 a.m. to noon, John Mercure from WTMJ will be on hand registering folks to win a 1969 Valenti Mustang Resto Mod beautifully restored by Valenti Classics. At noon, one lucky listener from the Classic Free Ride radio remote will be selected as a qualifying contestant.
Chix-4-a-Cause will also be on hand to host a tasty cookout and Brew City DJ's will be spinning the classic tunes.
Home Care Medical prizes to win include:
o Kindle Fire HD donated by Jobst - FLA
o Kindle Paper White Reader donated by Sunrise
o Green Bay Gift Basket donated by Resmed
o $100 Visa Gift Card donated by Lake Court
o $75 Visa Gift Card donated by Comfort Company
o $50 Visa Gift Cards donated by Drive
o $50 Restaurant Gift Cards donated by Invacare
o $50 Mastercard Gift Card donated by Airgas
o $25 Visa Gift Cards donated by Golden Technologies
o Kabooti, Wedge and Freedom donated by Contour
o Car Cush, Lumbar and Bed Wedge donated by Nova
o Polo Shirt donated by McDavid
"We are pleased to celebrate 40 years of serving the residents of Southeastern Wisconsin," explains Kandy Raether, Vice President of Sales and Marketing, Home Care Medical, Inc. "Our Home Care Medical Classic Service pairs so well with our Classic Free Ride event and we are delighted to partner again with WTMJ and Valenti Classics. We look forward to greeting our Home Care Medical customers at our Milwaukee Retail Store."
About Home Care Medical, Inc.
Serving Southeastern Wisconsin since 1974, Home Care Medical, Inc. provides home infusion, enteral nutrition and hospice care; rehab technology; respiratory care; home medical equipment and supplies; and bracing and compression garments. Home Care Medical, Inc. is the WAMES (Wisconsin Association of Medical Equipment Services) HME Provider of the Year award recipient in 2013 and 2012. Accredited by the Joint Commission and an active member of WAMES, the MedGroup and AAHomecare, Home Care Medical's mission is to enhance the lives of those we serve.
Home Care Medical, Inc. Locations:
Corporate Headquarters, 5665 South Westridge Drive, New Berlin, Wisconsin
Milwaukee Retail Store, 4818 South 76th Street, Milwaukee, Wisconsin
Sheboygan Retail Store, 2922 South Business Drive, Sheboygan, Wisconsin
West Bend Retail Store, 1709 South 18th Avenue, West Bend, Wisconsin
For more information, please visit:
Website: http://www.homecaremedical.com
Facebook: http://www.facebook.com/homecaremedical
Twitter: http://www.twitter.com/HCM_Wisconsin