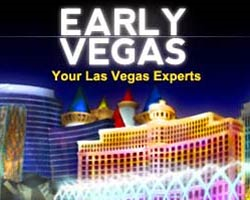 The research is done, the choice has been made, and the decision is in – the perfect last-minute casino resort hotel in Vegas this Memorial Day weekend 2014.
(PRWEB) May 23, 2014
No silly, it's not American Idol or Da Voice… it's where to stay this Memorial Day weekend in Vegas! For those of you planning last-minute travel to Las Vegas this Memorial Day weekend who STILL don't know where to go or what to do, the Mandalay Bay Hotel and Casino, according to EarlyVegas.com (http://www.earlyvegas.com), one of Sin City's most popular travel & tourism sites, offers guests plenty of unmatched luxury, fun, entertainment, fine dining, gaming, relaxation and even more fun – all at competitive Vegas rates. Here's the skinny:
Rooms: With a 4 1/2 star rating, the Mandalay Bay offers guests comfortable rooms with gorgeous views of the city down below. Rooms include triple high-thread-count sheets, shower and bathtubs, and plasma TVs up to 65 inches.
Mandalay Bay also offers special promos and best yet, their "Best Rate Guarantee" when you book direct with them. Their web site says "We promise that if you find a lower published rate on one of our rooms, we will not only match that rate, but give you an additional 10% off the lower rate." There are some terms associated with the offer (like any offer) but it seems quite legit. To view specials, promos and to book direct, see Mandalay Bay HERE.
For those looking for a stay after Memorial Day, they are offering a 2 Complimentary Buffets per Stay promotion (for stays starting 5/26/14) and an Early Bird deal for select dates later in the year.
Fine Dining: Mandalay Bay features a wide variety of restaurants that cater to different tastes. Restaurants include Burger Bar, Charlie Palmer Steak, Kumi Japanese Restaurant + Bar, Rick Moonen's RM Seafood, Bayside Buffet, Hussong's Cantina, and the famous Lupo by Wolfgang Puck. Those who are looking for a more casual dining experience may be interested in Sea Breeze Ice Cream and Juices, Raffles Cafe, Yogurt In, and Starbucks.
Entertainment: On May 25th, Mandalay offers a performance by Ziggy Marley, the son of reggae legend Bob Marley and a musician in his own right. The performance takes place directly on Mandalay Bay Beach. Tickets start at $42.50.
Michael Jackson ONE by Cirque du Soleil: The King of Pop's legendary sound returns in this stunning show by 63 Cirque du Soleil dancers, who add new interpretations to the beloved music of Michael Jackson. Hearing devices are provided. This 90-minute show is located right in the exclusive Michael Jackson ONE Theatre, which is directly in the Mandalay Resort and Casino. Tickets start at just $69. Shows are Wednesday-Sunday, with performance at 7:00 PM and 9:30 PM.
Shark Reef Aquarium: Those who are looking to encounter thrilling sea creatures can come to the Shark Reef Aquarium. There are over 2,000 animals to choose from, including sawfish, giant rays, piranhas, and a rare golden crocodile. Walk through it alone or take an educational, one-hour tour. Visitors may purchase an annual pass, which allows unlimited entry to the aquarium, 10% off regular priced gift shop merchandise and birthday rentals for children, entry to the Dive with Sharks Guest Dive Program, and exclusive e-mail offers. Ticket prices for general admission are $18 for adults and $12 for children ages 5-12. Children 4 and under get in for free.
Gaming Excitement: Guests at Mandalay can enjoy the 135,000 square-foot gaming area, which hosts over 2,000 slot machines, a race $ sports book, reserved areas, special VIP services, and more.
Mandalay Spa: Visitors of the spa, which is open from 6:00 am to 8:30 pm, get access to massages, facials, waxing and tanning, a manicure & pedicure service that offers a full-set of acrylic nails, artificial fill and removal, a polish manicure and removal, exfoliation services, a 3,000 square-foot fitness center, and more. The spa was recently given the Spa Finder Wellness 2012 Readers' Choice Award.
Mandalay Bathhouse: In addition to body treatments, wax $ tanning, facials, and a gym, the Mandalay bathhouse also offers therapeutic and essential oil baths. Guests can chose from the Muscle and Joint Therapeutic Soak, the Herbal Slimming Soak, Total Body Detox Soak, the Stress-Relieving Soak, the Signature Fizz Bath, and the Moor Mud Bath. Guests can select a 25-minute or a 50-minute bath.
Mandalay Beach: An eleven-acre beach with 2,700 tons of natural sand, guests can rent one of the 100 cabanas, day beds, bungalows, and villas, step into the 1.6 million gallon wave pool that TripAdvisor recently called one of the best pools in the United States, float on an inner-tube in the lazy river, get a drink at the Bikini Bar, shop for swimming and beach merchandise at Pearl Moon and Jungle Juice, grab something to eat at the Beach Bar and Grill, and relax in one of the several Jacuzzi spas. If you think you can do all that in one weekend - go for it!
The Shoppes at Mandalay Place: Shop till you drop. For those looking for retail therapy have access to over 25 different shops, which host products from everything to men and women's apparel, jewelry, sports and music galleries, specialty shops, and snacks for fuel.
Golfing: With four courses to pick from, guests can find the location and setting that fits their mood, whether it be mountainous, tropical, natural greens, or Carolina Sand hills. Guests can call in advance to reserve their time for the course of their choosing.
Wedding: Planning to get married this Memorial Day? Do it! Voted by The Knot as the Best of Weddings in 2008, 2009, and 2011, the Mandalay Chapel has over ten venues that brides and grooms can select from, whether it's the Shark Reef, the Swan Court, the traditional Chapel, the Beach, the Tower Suites, or the Valley of the Falls. Reception locations include a mix lounge, an ice lounge, a beach club, a garden sanctuary, or a foundation room. Mandalay also has wedding planners and award-winning catering services.
Mandalay Bay not your style? You can check out all options for this weekend and a full list of Las Vegas hotels and hotel promo code offers here.
So now it's decision time... It's the comfy couch, some TV, chips, feed the cat, walk the dog, mow the lawn, wash the dishes (not) OR it's Vegas Baby... Ready to pull the trigger or is it the not-so-comfy couch? For more information on all that Mandalay has to offer, visit Mandalay Bay on EarlyVegas.com.
This article was written by Alex Turner, an editor at EarlyVegas.com.