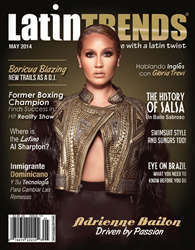 (PRWEB) May 23, 2014
A native New Yorker and Disney favorite, Adrienne welcomes LatinTRENDS to a behind-the-scenes interview as she primps and preps for yet another glam appearance. Adrienne is the co-host of the most anticipated talk show this fall on Fox, The Real, and Ms. Bailon gets real with LatinTRENDS this May.
This month we celebrate La Mujer Latina in all its diverse forms. Check out special interviews with amazing Latinas Gloria Trevi, Eiza Gonzalez and Tatyana Ali. And who is the best Latina of all? Mamá of course! LatinTRENDS offers a Mother's Day gift guide for every type of mom, and most importantly, your mom.
Plus former boxing champion Fernando Vargas and his new reality show hit "Viva Los Vargas" on Mun2. Fernando shows that is not only "ferocious" as he was known in the ring, but a soft spoken romantic hombre as well.
The history of salsa music, is an in depth look at the influences and influencers of this Latin music genre from its beginning in the Bronx, New York to the expansion and popularity it now has worldwide.
Amanda Blaze is a Puerto Rican single mother with a master's degree in Sociology from Penn State. Amanda had options, yet she choose her passion to be "the hottest female DJ in the world".
The Latino Al Sharpton? Where is this person? An explorative view on how the diversity amongst the Hispanic / Latino culture has been at the forefront of its disintegration, and how this has been a cause in a deficit of leadership and community activism.
Traveling to Brazil for the World Cup? See our in-depth coverage on everything from the favelas, the hotels, the people and the fun! Speaking of fun, give your home a fun makeover with tips and trips from the style guru, Martin Amado.
Download the LatinTRENDS app. Now Available on all iPhones & iPads on the Apple Newsstand App: https://itunes.apple.com/us/app/latintrends-pop-culture-latin/id580536465?mt=8; and on all Androids, via pocketmags.com: http://www.pocketmags.com/viewmagazine.aspx?titleid=1475&title=Latin+Trends.
For more information, please contact Maria Luna at (212) 852-6164 or via email at mluna(at)latintrends(dot)com.