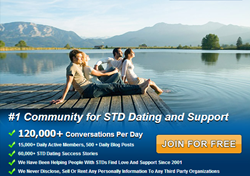 Los Angeles California (PRWEB) May 26, 2014
According to the latest report released by the US Census Bureau, the number of unmarried cohabiting couples in the US has increased by more than 17 times in the last 50 years. PositiveSingles.com, the largest dating community for people living with STDs , recently conducted a survey of 1,000 of its members after the release of the report by the US Census Bureau to identify their thoughts about cohabitation before marriage. According to the survey, a majority (46%) of members reported that cohabitation before marriage leads to both financial and emotional problems.
According to the survey, 45% of participants do not favor cohabitation prior to marriage. They believe that cohabitation is not a solution to know another person when planning to be in a relationship. Most of them also laid stress on the point that they are supporting this opinion not because cohabitation reduces the significance of marriage, but because they believe that there are several other ways to understand one another.
Most of the members view marriage as the best option to provide steadiness in a relationship. Another 25% of participants support moving in together after engagement. The remaining 30% of respondents believe that moving in together is great for couples who have been dating each other for more than a year. According to the 30% of the survey's respondents, they believe that living together is an economical option when compared to residing separately. They stated reasons for residing together: it helps both persons to know each other more precisely, and it helps them to identify whether they are a perfect match for each other or not.
When contacted, the spokesperson for PositiveSingles.com, Jenelle Marie, said, "Cohabitation before marriage contains both pros and cons. At PositiveSingles.com, we make no judgments toward an individual's cohabitation preferences, and we support the individual choices of all of our members." Jenelle went on to say, "While 45% of our members believe that living together before marriage can lead to emotional and financial issues, we understand that our membership is diverse, and we support the choices each of our members make for both their financial, emotional, and psychological stability, whether that means living together before marriage or waiting until one is committed or engaged."
About PositiveSingles.com
As the largest and most trusted online dating site for people living with Herpes, HPV, HIV/AIDS, Hepatitis, Chlamydia, Gonorrhea, Syphilis and other STDs, PositiveSingles.com is completely anonymous and cares about members' privacy more than other sites. You are not required to submit any information that you are not comfortable with on this site. Whatever you are looking for Herpes dating, HPV dating, HIV AIDS dating, or any other STD dating, PositiveSingles.com is the best place.