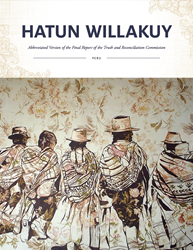 Hatun Willakuy in Quechua means "The Great Story," signifying the enormity of the events recounted by the Peruvian truth commission.
NEW YORK (PRWEB) May 23, 2014
Three human rights groups have joined together to publish a new English edition of Hatun Willakuy, a book presenting the abridged findings of Peru's Truth and Reconciliation Commission, on its tenth anniversary. The book, which is available online for free download, will allow a larger number of readers to benefit from the findings of Peru's truth-seeking process.
The collaboration was undertaken by the Center for Civil and Human Rights of the University of Notre Dame, the Instituto de Democracia y Derechos Humanos de la Pontificia Universidad Católica del Perú, and the International Center for Transitional Justice.
Peru's Truth and Reconciliation Commission was established in June 2001 as a part of the country's transition to democracy, after 20 years of armed violence and 8 years of authoritarian rule, which saw widespread human rights violations committed by the state and subversive groups. As the commission found, the targets for abuse were mainly poor, indigenous people living in Peru's highlands and jungle regions.
The commission released its 9-volume Final Report on August 28, 2003, after interviewing more than 17,000 victims and reconstructing hundreds of atrocities. An abridged version, Hatun Willakuy, was published in Spanish soon after, to help raise awareness about the conflict and its consequences in Peruvian society.
Hatun Willakuy in Quechua means "The Great Story," signifying the enormity of the events recounted by the Peruvian truth commission.
"It is essential to keep our discussion alive," says Salomón Lerner Febres, former chairman of the Truth and Reconciliation Commission. "A chief reason is that constant discussion of our diverse efforts to shed light on a terrible past is a way of keeping the sense of urgency, the sense of grieving that victims experience each and every day."
The new book summarizes key findings from the report, including the scope of the conflict and the role of the Shining Path, the Maoist group that waged war against the Peruvian state just as the country was transitioning from a military dictatorship to democracy.
The book's many infographics help to illustrate the patterns of abuse. One graphic illustrates how state security forces mainly killed, tortured, or disappeared suspected subversives in the first half of the conflict, then shifted to a tactic of official arrests.
The paintings that appear on the cover and chapter openings were created by Peruvian artist Mauricio Delgado Castillo.
A web page exploring the book is available at http://ictj.org/peru-hatun-willakuy-en/.