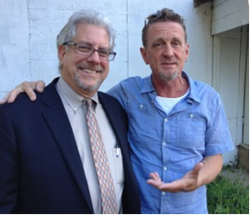 Timber and fishing are gone. What is left is cannabis. We want to come in from the cold. We want to be integrated. -- Matt Kumin, Director of California Cannabis Voice
San Francisco, CA (PRWEB) May 23, 2014
Medical cannabis licensing and regulation is being discussed in Sacramento right now in the form of SB1262, sponsored by State Senator Lou Correa. That's why Cannabis California Voice Director Matt Kumin and Secretary Terrance Alan led an activism training for over 100 cultivators and others on Monday in Laytonville, urging them to lobby the state legislature.
Cultivators and business owners must have their voices heard so they may have a say in what goes into this bill. Licensing is inevitable, which is why the people and businesses it will impact directly need to have a say in how the legislation behind it is crafted.
"We want fair licensing," Kumin told a reporter on Monday. "We don't want to be treated in a prohibitionist way anymore. We can live with fair, good laws; we just can't live with bad laws."
At the Laytonville Grange on Monday, Kumin and Alan met with those who were curious about getting involved and a few already beginning to organize their communities.
Some expressed a desire to see the industry treated much like wine in California, providing protection to small farmers. Others were interested in restricting or eliminating indoor cultivation. There are many details of the industry that must be addressed, so who better than those directly involved to help legislators understand these multi-faceted issues?
"In truth, we don't want to be regulated," Kumin said to reporter Jane Futcher on Monday. "But we see regulation coming and instead of ducking and covering and avoiding it, we want to work on a reasonable bill so we can continue to produce the high quality cannabis everyone wants.
"The licensing bill will pass, and they will slowly, slowly, slowly lean on people who don't have a license. We'll need amnesty. We will fix ponds. We will comply with the law. If they come and we have to pay permit fees, we'll say, 'Give us time.' Timber and fishing are gone. What is left is cannabis. We want to come in from the cold. We want to be integrated."
Recreational marijuana has fared much better in Colorado than in Washington, Alan said. This is because Colorado adopted statewide regulations for medical marijuana before it completely ended prohibition. Kumin added that Washington state previously had medical cannabis regulations that were vetoed. Not having that solid foundation has contributed to Washington state's struggle between medical and recreational distinctions.
A voter initiative is on its way for 2016 to end marijuana prohibition for adult/recreational use — how the medical legislation is crafted now will directly impact that initiative.
Alan and Kumin will return to Laytonville for another training on June 2 at 2 p.m. in the Laytonville Grange. Other organizations or communities interested in community action training should contact California Cannabis Voice.
About California Cannabis Voice:
The mission of CCV is to identify, educate and unite stakeholders whose lives are impacted by medical cannabis to support the passage of fair and reasonable regulations. By working with stakeholders, even those traditionally opposed to marijuana, a bill can be crafted that fills in the gaps of Proposition 215 and provides a solid foundation for future legislation. Doing so will empower communities and protect business owners and patients. Sign up for the CCV newsletter to keep up to date.