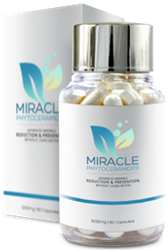 (PRWEB) May 25, 2014
According to the announcement given today by MiraclePhytoceramidesExposed.com, online customers will be able to purchase the supplement on Miracle Phytoceramides' website and get complimentary shipping on any order. They may also choose to purchase more than one bottle and receive lower prices in a bulk discount program. Both new features start this week, and represent a new direction for the online company that caters to customers seeking the anti-aging supplement.
Free Shipping Starts This Week
In an aggressive bid to retain their position as the leading Phytoceramides distributor, Miracle Phytoceramides will pay all shipping charges for supplements shipped to their customers. The new complimentary shipping program also applies to single-bottle purchases.
"Our board of directors is always looking for ways to stay competitive while serving customers even better" says Guy Valdes, Head of Marketing at Miracle Phytoceramides. "We analyzed our own miracle Phytoceramides reviews and found a common thread among our customers: they wanted free shipping! Second most asked-for feature was the bulk pricing. We deliberated for weeks and the complimentary shipping and bulk pricing just made sense in so many ways."
Mr. Valdes goes on to express his company's desire in the next year to serve even more customers wondering where to buy miracle Phytoceramides. "We believe that with these new features, not only will our existing customers come back for more, but they'll tell their friends about us, too. We hope to double our customer base in the next year, becoming the number one site for miracle Phytoceramides." He then added, "Free shipping should help anyone easily decide where to buy miracle Phytoceramides!"
New Bulk Pricing Structure Taking Effect This Week
In addition to their new complimentary shipping feature, Miracle Phytoceramides is also offering bulk pricing to customers purchasing more than one bottle. There are now three different packages to choose from, two of which offer the bulk discount.
Before the bulk discount program, the Miracle Phytoceramides company offered only single platform pricing: one bottle cost $53.98 no matter how many bottles were purchased. Now, with the new pricing structure, customers can choose from the three packages, thereby choosing their own discount.

Package #1 is essentially what existed before the new structure: buy one bottle at $53.98.
Package #2 offers customers the option of paying only $34.99 per bottle when they purchase three bottles.
Package #3 brings the price down to $28.99 if five bottles are purchased.
The Autoship program brings the price down even lower, to $24.63 per bottle.
Hailed by Many to Be the Best Wrinkle Treatment on the Market Today
Phytoceramides are said to be a safer, cheaper and easier wrinkle reducer by many, including popular celebrity doctor, Dr. Oz. He approves Phytoceramides and says they should cause improvement in appearance of the skin. Proponents say they see improvement in forehead wrinkles and under eye wrinkles, especially.
Used for centuries in Japan, Phytoceramides have recently been approved by the FDA as a supplement. This is good news for anyone seeking a less expensive, safer alternative to chemical peels and facelifts. Called a facelift in a bottle, Phytoceramides are now a popular wrinkle reducer in the USA, since FDA approval.
About This Wrinkle Reducer and Where to Buy Miracle Phytoceramides
Phytoceramides are plant-derived substances extracted and produced in capsule form. Taken orally rather than topically, they are said to "hydrate" the skin from within by replacing the body's own natural ceramides. Ceramide production begins to decrease with the aging process, and since they are what makes the skin plump, the skin ages as ceramides decrease. When the skin is less hydrated, it appears more wrinkled.
Those wishing to target forehead wrinkles and who have take Phytoceramides supplements have seen reported visible improvement. The same has been reported for under eye wrinkles, a particularly noticeable form of wrinkle associated with the aging process.
Miracle Phytoceramides are available online and at health food stores who specialize in supplements and anti-aging products. For more information visit;
Forehead Wrinkles: http://www.miraclephytoceramidesexposed.com/forehead-wrinkles/
Under Eye Wrinkles: http://www.miraclephytoceramidesexposed.com/under-eye-wrinkles/
Wrinkle Reducer: http://www.miraclephytoceramidesexposed.com/wrinkle-reducer/