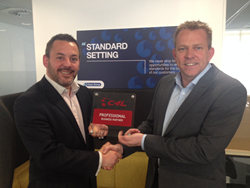 Being on the C4L Partner Network is a great benefit to Onyx Group; we are thrilled to facilitate the demand from the market of top quality infrastructure with unbeatable managed services combined
(PRWEB UK) 23 May 2014
Onyx have today embarked on an official partnership within the C4L Partner Network to enhance their portfolio of IT infrastructure services and also to benefit from the partner support that C4L offer. In return C4L have increased their geographical footprint access to Onyx's strong Data Centre network in the North.
Matt Delargy, Business Development Director of C4L, said: "To have a strong partnership between C4L and Onyx Group it is an ideal alliance adding huge value to the customer. Officially partnering now means we can work together closer than ever before and meet the changing needs of customers."
This brings to market a Cloud platform offering a fully cohesive, resilient and flexible offering, it also reduces the divide between North and South England DC's, which will be connected by coreTX, the new high performance MPLS network from C4L.
James Carver, Commercial Director of Onyx, said: "Being on the C4L Partner Network is a great benefit to Onyx Group; we are thrilled to facilitate the demand from the market of top quality infrastructure with unbeatable managed services combined."
About C4L
C4L is a leading data centre colocation and connectivity solutions provider, with access to over 100 UK data centres and more than 300 globally. C4L offer a range of services including colocation, connectivity, cloud and communications. With their own data centre located on the South West coast and a fully privately owned, high-capacity, 1-100Gb capable fibre-optic network, utilising equipment from leading technology vendors such as Juniper, Extreme and Cisco. This network called coreTX, links multiple data centres across the UK using a diverse fibre optic backbone and DWDM technology to provide very high performance.
C4L clients include government agencies, FTSE 250 companies, international financial institutions, system integrators, top 100 VARs, resellers and many of the UK's network carriers. Our entire business is committed to customer satisfaction and quality of service and we have achieved certifications such as ISO9001 & 27001 to demonstrate this. C4L was the 2012 winner of HSBC's South West Business Thinking initiative, and has been ranked in the Deloitte Technology Fast 50 and Fast 500 EMEA, as well as the Sunday Times Microsoft Tech Track 100.
For more information visit http://www.C4L.co.uk/pr, or Tel: Jade Yarham +44 (0)8000 470 481 Ext 736.