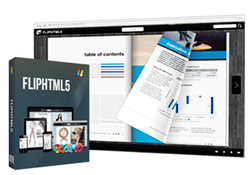 (PRWEB) May 25, 2014
A self publishing platform, Flip HTML5 now is available with an Upload Online Service, available for independent publishers who want to share their content with readers worldwide. Users can upload as many as 500 books (100G) per month at no cost. Once they create a flip book in Flip HTML5 account, customers can easily view it online using a PC, Mac, iPhone, iPad, or Android device.
The digital brochure publishing solution is also possible to share a digital brochure contained on the server to others via email, Facebook and Twitter. Publishers can embed the book on a web page by using simple codes if they like. Benefit of the Flip HTML5 self publishing solution is that users don't need a third-party tool such as FTP. Data protection is guaranteed courtesy of the Amazon S3 service so the flipbook is always available.
All books uploaded to the free cloud storage are showcased on Flip HTML5 website. A large number of readers are attracted to the website every day. Flipbooks can be set to be public or private; other management tools allow book details to be edited, for example. More storage space is available through four different payment plans, from the Pro Plan of 2000 books per month to the Enterprise Plan supporting unlimited number of books per month.
With the digital publishing platform, it's so easy to self publish articles, newspapers, reports, brochures, magazines and e-publications. Create a Flip HTML5 account, upload a PDF file, and then the platform will help to convert it to HTML5 flipbook format. Before "Publish", users can edit the title and description details to make the book SEO friendly. It is a very simple process that does not require any expertise to complete.
In addition to the convenience of PDF conversions, full customization, branding, multimedia, and mobile compatibility provided by Flip HTML5, the Upload Online Service and free cloud storage are among its most outstanding selling points. For more information on the software and its great features, visit http://fliphtml5.com.
About FlipHTML5 Software Co., Ltd.
FlipHTML5 Software Co., Ltd. is a China-based company established in 2010. It provides digital self publishing tools and is now the leading provider of such software in the world. The company's products are cost-friendly and ideal for both commercial and personal customers.