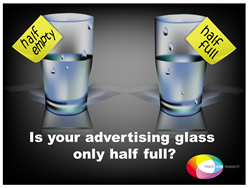 Tony Lewis, Managing Director at Vision One , commented, "It is good to know that current advertising isn't as wasteful as some might have us believe. Most TV advertising appears to be achieving much better results than the 50% effectiveness of the past.
London, UK (PRWEB UK) 27 May 2014
Although over a century old, arguably one of the most famous advertising quotes is that by John Wanamaker, a US department store merchant who said, "Half my advertising is wasted; I just don't know which half". This popular saying seems to strike a chord with our intuitive sense that advertising does not work for everyone all the time. Vision One Research has recently undertaken a study to see if this saying still holds true, whether things have changed and if advances in our understanding of advertising mean that we can now get a better fix on advertising effectiveness.
Over the past couple of years, Vision One has been accumulating data on how consumers react to TV advertising to assess whether or not the 50% rule still holds true today. Using AdProbe, a new proprietary advertising research approach designed for advertising pre-testing and brand tracking studies, it is now possible to understand how people react to advertising in order to measure advertising efficiency.
The good news for advertisers, is that consumer reactions to a range of TV ads indicate that the picture is not as gloomy as some might have feared - using AdProbe's overall 'Impact score' it was found that only 30% of advertising is actually wasted. This result was taken from consumer reactions to a wide range of TV executions aired from 2013/14 and also highlighted the fact that wastage can vary quite markedly and in some cases can be as little as 10% for the most effective ads.
But what is wastage in advertising? Vision One has a unique approach to advertising evaluation born out the fact that brands require different approaches depending on their progress within the brand life-cycle. New or younger brands typically look to generate awareness and highlight their benefits, whilst mature brands are looking for ways to reinvent themselves. As such, a one size fits all approach to advertising evaluation is not meaningful. By understanding the range of potential reactions to advertising and the impact it has on people, means it is now possible to assess how much, or rather how many, are being left unaffected by the advertising.
The research, based on over 5,000 consumer interviews in the UK reviewing a wide range of advertising executions, including; Food and drink, Household Goods, Public Sector, Retail, Telecoms, and Tourism, concludes that it is also no longer relevant to generalise about advertising effectiveness. The high variation in wastage means that the most effective ads can be up to 4 times, or put another way, 400% less wasteful. The implications of this are clear and suggest that advertisers should ensure their creative ideas and executions are fully optimised with minimal wastage and properly researched before going to market.
About Vision One Research
Vision One is a specialist research and customer insight agency offering UK and International market research with offices in London (Head Office), Birmingham and Liverpool. With award winning products and services, Vision One provides a range of leading edge insight services, including; customer satisfaction, advertising and media, new product & brand development, B2B and StaffProbe our latest employee engagement survey service.