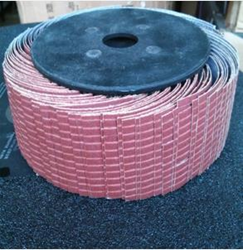 Zhengzhou, China (PRWEB) May 23, 2014
Positioning itself in abrasives industry only, iAbrasive is a professional online trading platform aiming at facilitating deals between buyers and sellers. The website tries the best to provide users with the most professional trading experience here.
Today iAbrasive would like to introduce something about flap wheel. In case that users happen to search for abrasives manufacturers of such products, users are welcome to link http://www.iabrasive.com/products/flap-wheels to view details. iAbrasive is happy to be user' s professional guide.
It is undeniable that flap wheel is an important tool used for polishing, which consists of a series of coated abrasive flaps radiating out from the center of the wheel where the flaps are bonded together. Generally, flap wheel is able to provide new abrasive surfaces continuously as the flaps wear away.
Similar to other coated abrasives, flap wheel also takes abrasive grains, such as alumina oxide and silicon carbide, as the polishing materials. Due to the advantages of excellent wear-resistance, good flexibility, outstanding cutting and grinding performance and easy to operate, it is the ideal choice for a wide variety of blending, deburring and finishing applications in the fields of metal fabrication, welding and polishing.
Usually, flap wheel is mounted on the automatic polisher before working. Compared with hand-working, it can save both time and labor. Therefore, it has been considered as the perfect polishing tool for surface treatment.
If users are interested in abrasives industry, you are welcome to follow iAbrasive.com to learn more. The newest industry news are updated at: http://www.iabrasive.com/articles.