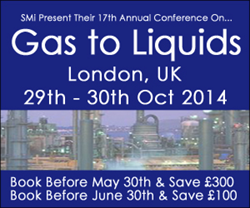 London, UK (PRWEB UK) 23 May 2014
Gas-to-liquids technology is approaching a new wave of development as sponsors of both large-scale and small-scale projects work towards final investment decisions. The SMi Group, drawing on 16 years of working within the Gas to Liquids industry, is delighted to announce their 17th Annual GTL 2014 conference.
With representatives from leading and innovative companies this two-day conference and workshop will cover project updates from North America to the Middle East, project financing, the latest technological advancement as well as much more.
Registration for the event is now open.
Confirmed speakers include: Alex Forbes (Energy Journalist and Consultant), Forbes Communications; Gareth Coetzee (GTL Evaluations Manager), PetroSA; Arata Nakamura (Senior Coordinator, Technical Planning & Coordination Unit, Technical Division), INPEX CORPORATION; Mark Schnell (General Manager, Marketing, Strategy and New Business Development), Sasol North America; Roger Williams (Chief Executive Officer), Energy Security Partners; Paul Langston (Business Development Manager, Conversion Technology Centre), BP; Jeffrey Newton (President), Aleph Sciences Group; Gareth Coetzee (GTL Evaluations Manager), PetroSA; Malcolm Wells (Director), Malwell Corporate Projects; Neville Hargreaves (Business Development Director), Velocys; Ramon Gonzalez (Program Director, DOE), ARPA-E; Robert Clews (Head of Oil, Gas & Petrochemicals, Project Finance) SMBC Europe Division; Jorge Castaneda (Principal Consultant, EMEA) Independent Project Analysis; Zoe Reeve (Principal Consultant, Midstream and Downstream), Gaffney Cline and Associates; Ed Osterwald (Partner), CEG Europe; Robert T. Do (CEO and President), Solena Fuels; Don Pierson (Business Development Director), Louisiana Economic Development).
The event programme is broken into 5 sessions: Large Scale GTL (including presentations from Petrosa, YO'L GTL, Sasol North America, Energy Security Partners), Technology Innovation (presentations from BP, Aleph Sciences Group and a Panel Discussion "Dos and don'ts of project development", hosted by BP, Malwell Corporate Projects and Petrosa), Small Scale GTL (presentations from Velocys and U.S. Department of Energy), Project Finance and Mitigation (presentations from SMBC Europe Division and Independent Project Analysis) and GTL Economics and Products (presentations from Gaffney, Cline & Associates, CEG Europe, Solena Fuels and Louisiana Economic Development).
Event's sponsors: British Petroleum and Aleph Sciences Group.
Gas to Liquids – 2014 is supported by: Interfax Energy, OilVoice, Petrospot, MJM Energy, Worldoils, Oil and Gas Journal, Alexander's oil and gas connections, Power Info Today, Oil and Gas International, Upstream online, European Gas Hub, NRG Expert, Rigzone, Engineerlive, E&P Daily, Gasworld, Petrofinder.
For more information or to register, go to the event's website http://www.smi-online.co.uk/2014gtl4.asp or contact Andrew Gibbons via +44 (0) 207 827 5156