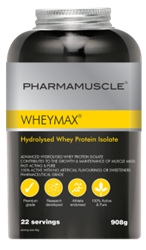 (PRWEB UK) 23 May 2014
Pharmamuscle is the company behind the new sports nutrition brand selling high quality supplements such as whey protein isolate, creatine, amino acids and a thermogenic fat burner. Pharmamuscle is the first UK sports nutrition brand to be approved by the Vegetarian society. All the products on Pharmamuscle are made from 100% pure and natural ingredients free from gluten, wheat and artificial colours, flavours and sweeteners.
Pharmamuscle have joined MoreNiche to launch their affiliate program, develop their brand and grow their market share. Currently the program offers 17.5% commission per sale which is very high for this industry where commissions are typically around 8-12%.
Affiliates considering getting involved with this market should turn to the figures for reassurance. It's a market that is continuing to grow as sports supplements become more and more mainstream. The market is expected to reach $6-7 billion by 2018 and there are no signs of it slowing down.
Other benefits of this program include worldwide promotion opportunities, free delivery in the UK for orders over £50 and regular discounts available for promoters to generate even more interest, and earn even more commission.
MoreNiche provide a helpful 'How to promote Pharmamuscle Guide' and affiliates get personal support from a mentor and product specific Affiliate Manager when they join the network.
The Pharmamuscle affiliate program is the perfect choice for both experienced and new affiliates. The supplements would make a great addition to any established sports related website, they can be promoted via social media, email marketing and personal review blogs.
The Pharmamuscle brand is built on a foundation of three fundamental principles; innovation, science & quality. The combination of this triad of values ensures that their products are renowned for pureness, superior quality and most importantly delivering results which has lead to Pharmamuscle quickly becoming a leading sports nutrition brand.
Superior quality supplements has drawn the attention of expert trainers and celebrities to Pharmamuscle. Additionally, the use of innovative technology offers unparalleled results which has made Pharmamuscle a popular choice for athletes, gym-goers and sports enthusiasts. Advanced nutrition technology, including ActiZymeTM in Metaburn (http://www.pharmamuscle.co.uk/metaburn) which is Pharmamuscle's most recent innovation that is at the forefront of absorption technology, promotes great absorption of their nutritional sports supplements.
Join the Pharmamuscle affiliate program on MoreNiche today.