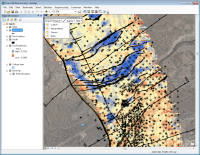 London, UK (PRWEB) May 23, 2014
Exprodat, the oil and gas services, software and training supplier, has provided Cardiff University with a licence of its Data Assistant software which has helped to hugely simplify the task of importing Petrel files into ArcGIS.
The 3D Lab, which sits within the university's School of Earth and Ocean Sciences, aims to develop the use of 3D seismic technology and is supported in its efforts by generous donation of datasets from many oil and gas companies and government organisations.
Handling data quickly and easily is key to success in every industry and it is certainly true in oil and gas exploration. Exprodat understands this requirement and developed its Data Assistant software in response to the difficulties geoscientists face in moving data between GIS and sub-surface interpretation systems.
Before the advantages of ArcGIS can be fully brought to bear on oil and gas data, those datasets need to be loaded into ArcGIS. The Data Assistant software enables common industry formats such as Petrel, Kingdom, SeisWorks and OpenWorks (amongst others) to be visualised within ArcGIS and to be manipulated and analysed using the wide range of available tools that ArcGIS provides.
Dr. Tiago Alves who leads the 3D Lab explained more about the group's work and how the Data Assistant has helped the team; "Exprodat's is an invaluable tool to assist seismic interpretation and slope stability analyses in submarine areas. In a time where GIS and exploration tools need to be linked, Exprodat's Data Assistant provides an excellent tool to extract, merge and analyse different 3D seismic datasets interpreted on industry interpretation packages."
To learn more about the Data Assistant or any Exprodat other software and services, simply visit:http://www.exprodat.com.