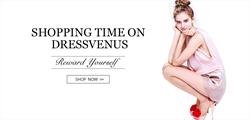 HongKong, China (PRWEB) May 25, 2014
The high quality, the fashion style and the latest design are always the features of DressVenus. It always aims at helping girls and women to be more fashion and beautiful. Today, DressVenus announce its special promotion on women clothing with 85% discount.
According to the Marketing Manager, DressVenus, as the cheapest source for women fashion goods, has a pricing policy by which it always seeks to ensure the sale of affordable clothing products to its customers. "As usual, our store has kicked off another promo offers on all dresses, women tops, jewelry, and sandals with 85% off the regular price. This promo will end soon. Our loyal customers can therefore avail themselves of this opportunity to purchase their desirable products at the cheapest prices," she states.
In respect of the promotions, DressVenus now features a wide variety of new arrivals as well as daily deals. "As of today, available clothing items include sexy backless patchwork lace sleeveless-pleated dresses, long sleeve round-neck lace blouse, lace shirts. Fashion accessories on the storefront include lingerie, high-heel stiletto sandals, handbags, scarfs, and bracelets. These are dresses and accessories with cute and stylish designs that would make any woman look great like a celebrity," the Marketing Manager reveals.
The Marketing Manager of DressVenus also affirms that the fashion products are ideal as gifts that shoppers can offer their loved ones. Husbands can purchase classic dresses and sandals to celebrate their lovely wives. "All the items come in different sizes, styles and colors. Even, plus size women can find a befitting dress on the store," she confirms.
Starting from around $10, shoppers can find a high-quality fashion product that would suit their taste. She cites thus: "For instance, a one-shoulder chiffon dress goes for $10.99 while a leather handbag costs $13.99. Nothing compares with a shopping experience that gives a better value for the money of a customer. Besides, quality is guaranteed on every product."
For more information on the wide variety of women clothing being offered on the storefront of Dress Venus at 85% discounts, go to http://www.dressvenus.com.